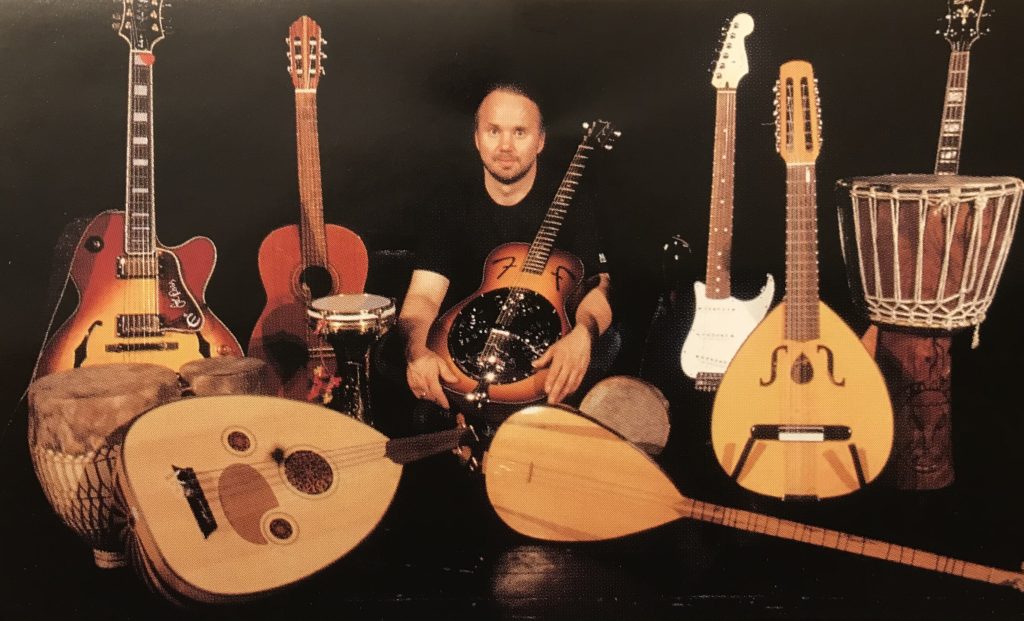 How did it all begin?
Could it all be pinned down to a visit to the Ringve Museum of Musical History, in 1965?
My fascination for musical instruments had been with me for some time already, so when an eager six-year-old first laid eyes upon these wonderous objects hanging on walls and standing on floors, the seeds were sown. I was invited to try a Hardanger fiddle; it sounded awful. My homemade model, made from a cigar box and lengths of fishing line, commanded more approval in spite of (or maybe because of) it being totally soundless.
In 1968 I was nine years old and seeking the temptations of the world. Knut, who lived near our leisure cabin, had an electric guitar (but no electricity!) and was self-taught on Simon and Garfunkel, The Hollies, Tommy Roe and other late-sixties heroes. I even enjoyed my first cigarette.
Later, around 1972, I wanted to be a drummer. But as we lived in a block of flats, there were limitations. Thence, guitar. Jimi Hendrix and Eric Clapton were my primary sources of inspiration. Jimi played a Fender Stratocaster; that was my first conception of a guitar having a name.
I started learning from Odd Arne Jacobsen, hailing from Tromsø, who charged the equivalent of £3,50 for lessons. He actually owned a Gibson, and even though I retained my Hendrix admiration, I seriously became a Gibson acolyte. Odd Arne recommended a Hagström Swede if a Les Paul was beyond me.
The third choice was an Ibanez. I brought Odd Arne as a consultant as I invested my Confirmation money in a beautiful Sunburst copy, and my career as a performer began in the Gospel group Namsos Ten-Sing. Certain comments made me put the guitar away shortly after, and as we by then had moved to a house, I finally took up the drums. I was offered the loan of a 12-drum kit by Geir, who played guitar in Broken China where I played drums for a period. Parts of Broken China later became first Rollaug and then DDE. (Thank you Frode for hours of fun and playing!) Unfortunately Adde's music shop wanted the kit back, as Geir seemed to have forgotten to pay for it.
1977, and Yes played Oslo. Steve Howe had brought fourteen guitars, and each sounded different. I made notes at the back of my ticket.
While others would have learned their heroes' songs, I wrote my own. And I dreamed of owning more than the two I had – one electric, one acoustic, which I thought was the absolute limit unless your name was Steve Howe. Stein Roger Brønseth and I pooled our six-stringers and took photos, and recorded our efforts on a Philips cassette recorder. Our first recordings were accidentally erased, but later (1986-1990) band experiments were preserved.
My first trip to Turkey brought home a couple of drums and a saz. It dawned on me that this could be a collection in the making. I bought an Epiphone jazz guitar and an amplifier to balance the classical that had always been with me. An oud fit in the overhead luggage locker on yet another flight out of Turkey. In Barcelona I found the jangly twelve-string wrongly cited as vachalia on Yes albums; it is actually a laud. Up next came Newcastle, and a Strat followed me home. And a Fender Resonator emerged from a cellar shop in Copenhagen.
Armed with these tools I entered Terje Solbakk's studio with twenty three years of blossoming ideas in my luggage. What was a weird bunch of songs turned into a full CD, and what was an eclectic collection on the CD's back cover turned out to be a small beginning.
This is the story of a «Les Paul» and a Les Paul, or rather several Les Pauls, from the dreams of a fourteen-year-old to an established man of sixty plus with a VISA card and an eBay account who is still learning things about guitars. I wanted a Les Paul, I got one, and I kept going. The thrill of opening a case to reveal a new instrument never ceases. And by all means, the thrill of picking up an item I haven't touched for a while doesn't give any less pleasure.
None of these were bought for investment, none of them come with a provenance. I've had British instruments made in Korea and American instruments hailing from Indonesia, and copies with no brand or logo. I have released a CD which sold acceptably among family and friends, and played gigs for up to 25 people in the audience.
I would like to share with you some photos and stories from fifty years of owning musical instruments. And occasionally mastering them. To be honest, if I had spent as much time practising as I have hunted and collected, I would have been a brilliant player.  Neither collecting or performing has become a career. But it has been fun, all the way. It still is. Beyond the "I've always wanted/I finally got it" lies the ever present lure of the next one, another one, one slightly different.
Say, isn't that a DHL van pulling up outside?
Erik Andal Hofsten
June 2023
Below are some of my guitars in small portions, grouped by common features or similarities appreciated by a collector. All of these are presented more thoroughly by selecting from the menus on top of the pages. Enjoy more than nine hundred photos of instruments and an occasional musician.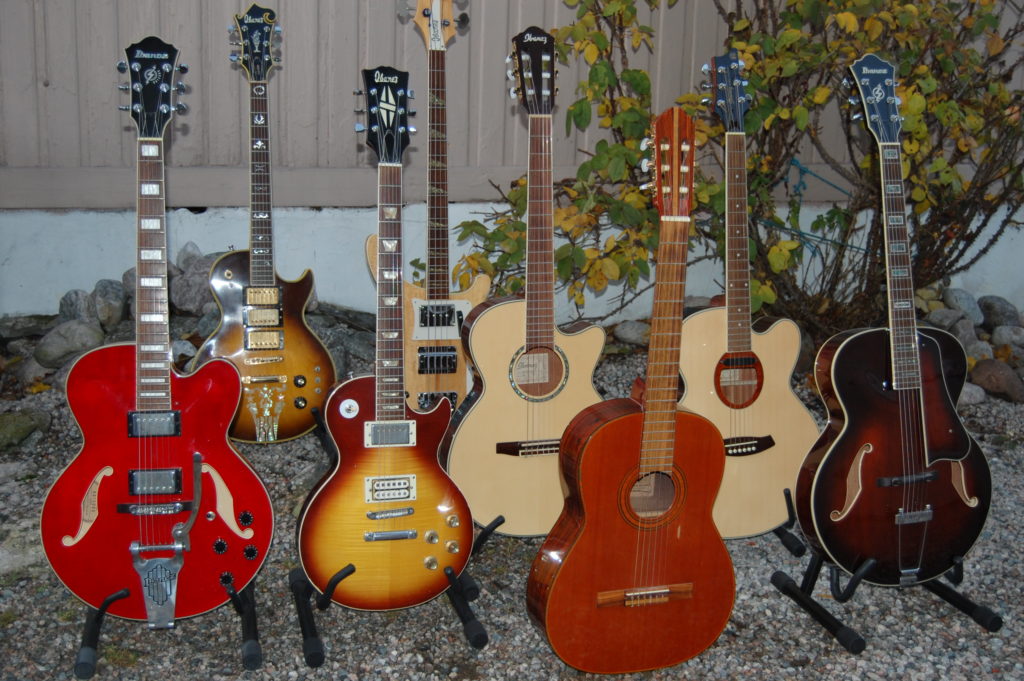 The Ibanez family on an excursion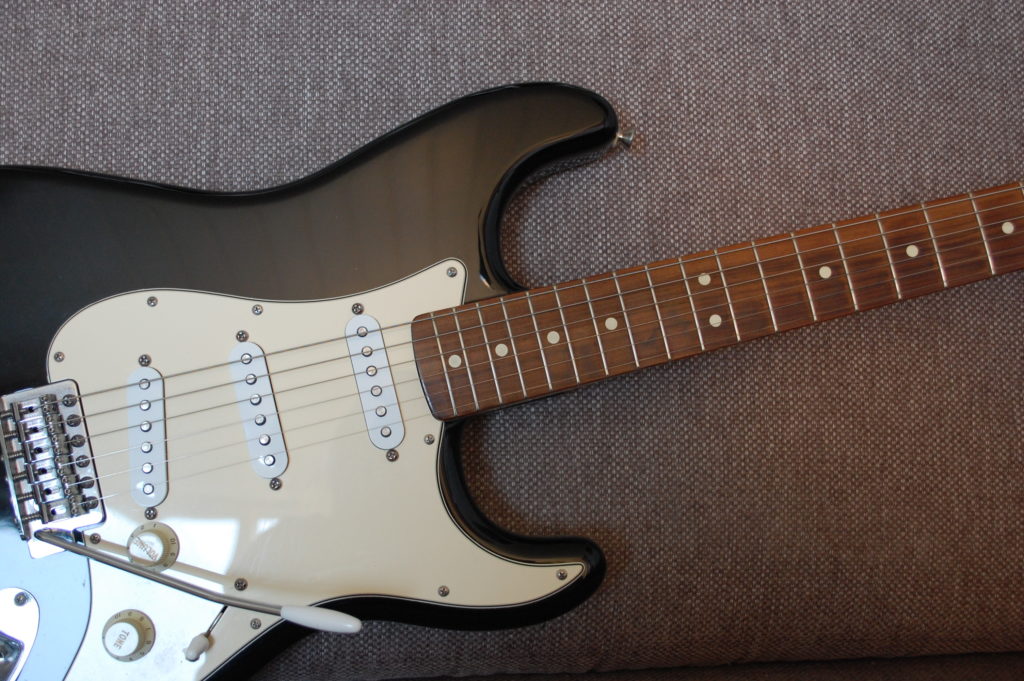 Double cutaways for easy access. Fender Strat, Fender Bass VI, Blade Durango, Gibson ES-335, Fender Starcaster, Gibson SG.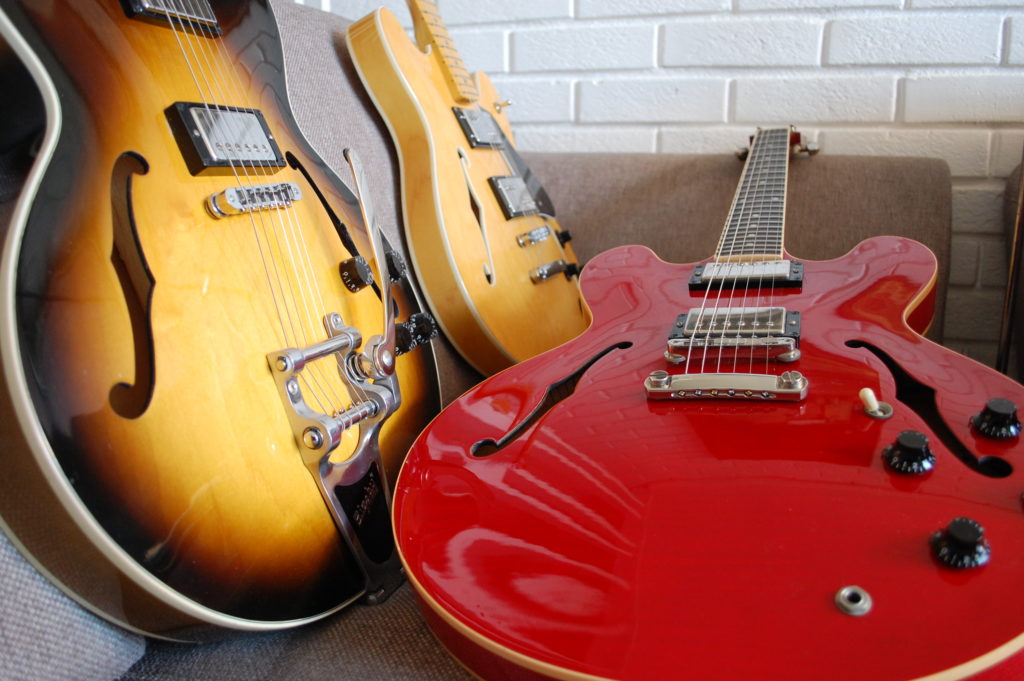 Three with centreblocks, adding sustain and reducing feedback in hollowbodies. Gibson were first, Fender joined with the Starcaster. Sunburst 135, red 335, and natural Starcaster.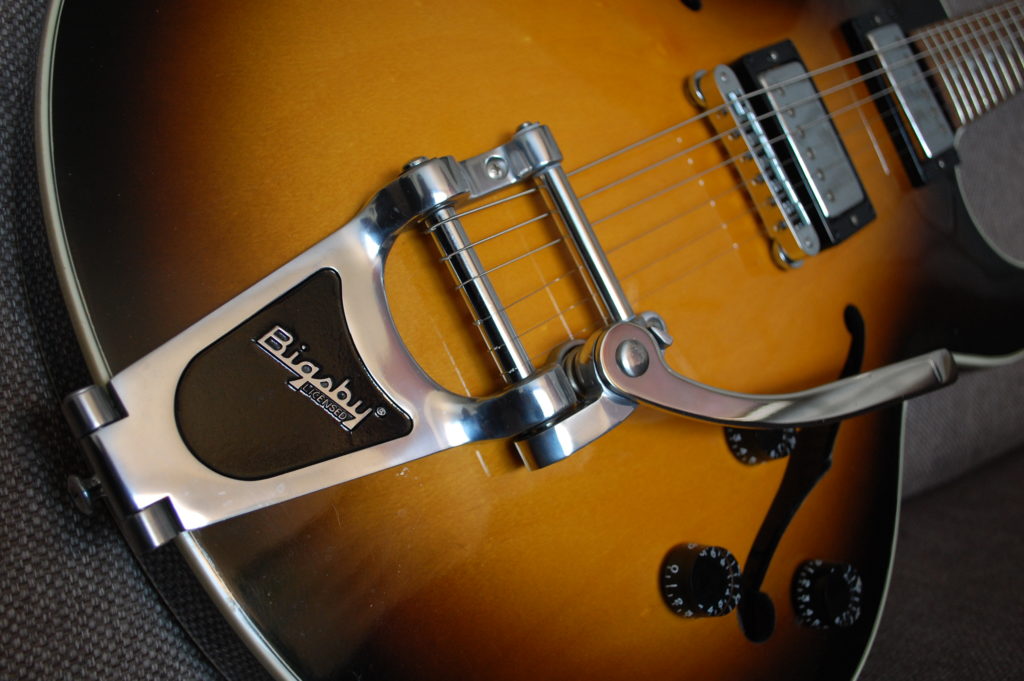 Four different vibrato systems. Bigsby on a Gibson ES-135, Fender "tremolo" on a Strat, the Jag/Jazz system on a Bass VI, and the divebomb Steinberger system.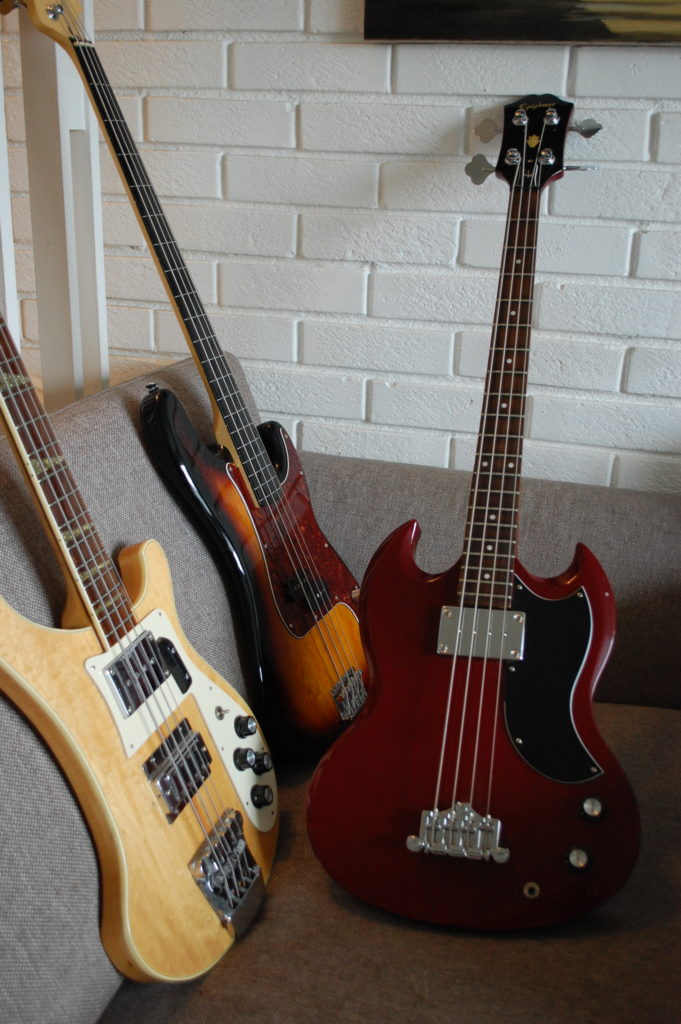 A trio of basses. A 'buckered shortscale, a Rick and a fretless Precision should cover it.
Actually, these are an Epiphone, an Ibanez and a Squier. Matching my level of bass playing. It's fun, though.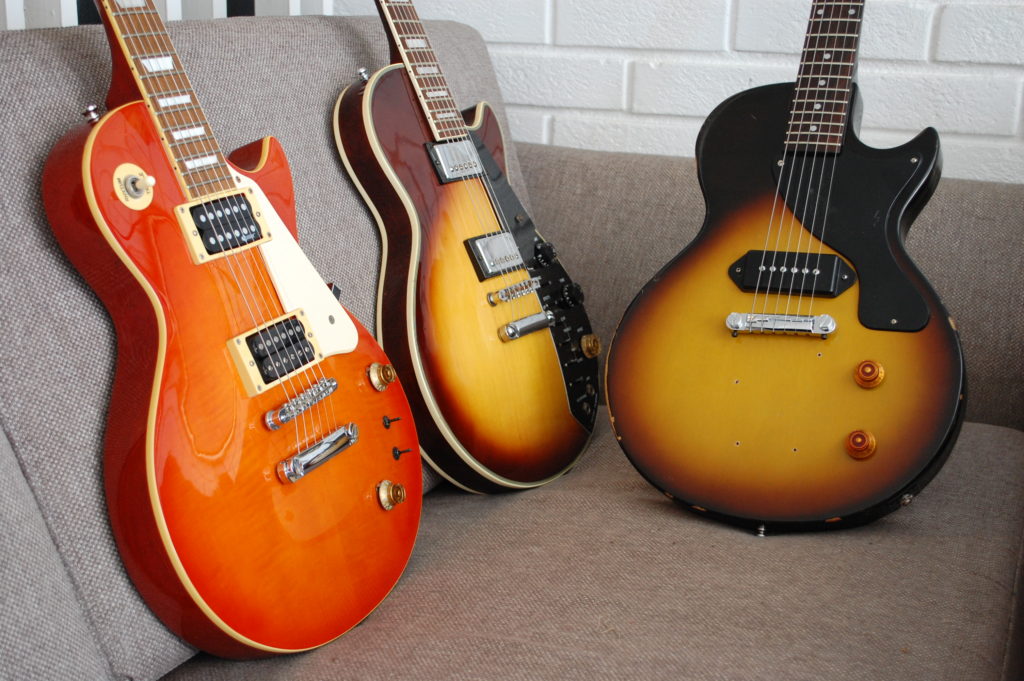 Three Eastern takes on the Les Paul shape. The basic Junior is closest to the original, so close it even has a fake Gibson logo. The Kay with the dashboard is inspired by the Recording models, and maybe even by Roland's synth model; featuring built-in effects usually found on a pedal board. The Burny has a Sustainer pickup, letting notes last forever, or until the battery runs out.
Footnote
For a short rundown on some of the variations of guitar, in chronological sequence, see link below.
https://erikhofsten.no/the-guitar-story/
Tour
Do you need a guide through these pages? Take the tour. Next: