Davul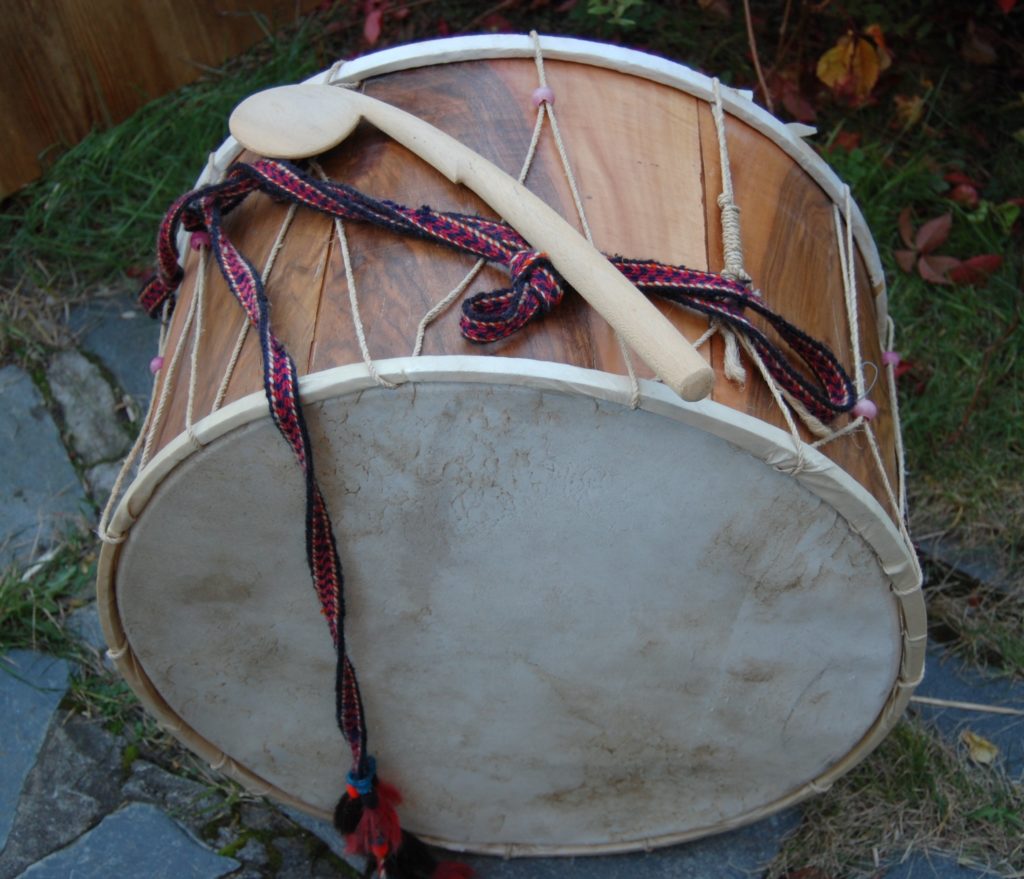 Davul (1988); wooden frame, rope-tuned twin goatskin heads.
Played with a note-shaped mallet in one hand and a thin stick in the other; bass and snare all in one. No snares, though, but the stick (or rather twig) gives a sharp snare-like sound.
I travelled through half of Turkey, literally, before finding a davul in Ankara. Typical conversation: «What you want? Leather jacket, special carpet? Elma çay?» «Well no; a davul actually.» «WHAT?»
Scanair ruined one skin, fortunately I bought a spare. I brought it to Falun Folk Music Festival, engaging in spontaneous improvisations in the audience. In the breaks, of course. When the second skin ripped, it became a two-by-four-foot decoration. The skin fit my first bodhran, barely.
Darbuka
Darbuka (1989); brass with plastic skin.
Sounds the loudest when played in the lap, the sound projecting against the wall behind you. The souvenir version is usually made from aluminium, the brass one pulls a lot more weight. The little cloth pendant was a gift from the daughter of a family I met in Foça north of Izmir. Both of these put to use with Firbolg (see The Performances) as well as separately providing beats to numerous different musical styles as played by local choirs and ensembles. I paid my tribute to Turkish folk music on (42) in the first part of the instrumental Reise 2 (Travel 2) with oud, saz and darbuka.
Bodhran
Bodhran (1992)
Irish frame drum, this came with a plastic skin. Held by the cross struts and played with a short twin-head wooden stick. Skin damped or stretched with the holding hand.
Irish music is a field I have ventured into by way of Firbolg. The bodhran demands a technique I've never seen elsewhere; most other drummers are allowed to use both hands. It came easily to me on a borrowed one at that time, and local dealer Strandberg ordered one for me when the first one went out of reach. Easy to bring to gatherings where playing may be anticipated. When the plastic failed, I put on a goatskin from my Turkish davul, but my stapler was less than industry grade and the upgrade, although improving the sound drastically, didn't last.
I met two bearded and dexterous Scots in Mallorca, and they taught me how to strap the stick to my finger with an elastic hair band. Immediate improvement (and sporting a ponytail, I'll always be ready if I encounter a bodhran). A side story: They kept teasing me by mimicking the Swedish chef from the Muppet show. I tried to tell them I was Norwegian and not Swedish, and they did not desist until I called them Englishmen.
I got a proper bodhran for Christmas in 2018. Ceilidh, anyone?
Tama Rockstar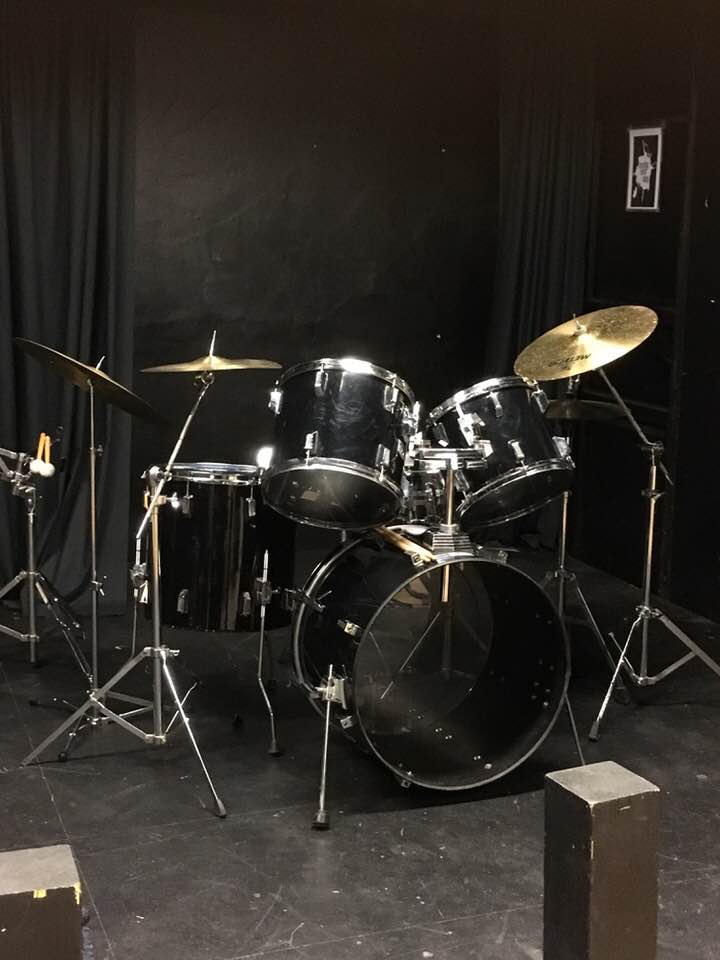 Tama Rockstar kit with Meinl cymbals (1994)
Japanese brand with prominent users.
Originally five drums, later augmented with an Asba snare drum, and Zildjian hi-hat and ride.
Terje Waale told me Gitardoktor'n knew more than guitars; he provided even drums at retail price. I let the youngsters in the local youth activity club use it in a Råkk (sic) band session, before setting it up in my living room. Every home should have one.
My friend Arthur is an unstoppable trader, and he approached me with some drum stuff. The kit itself was of no interest, but the Asba snare, a Zildjian hi-hat pair and a 16'' changed hands for a mere £25. I have been offered £100 for the ride alone, but I am not selling. I attacked the bottom Meinl hi-hat with a metal cutter to achieve the short splash sound, and now I tune the original snare to a warmer sound, while the Asba is for crisp rimshot-like accents.
I played drums in several small combos providing backing to the young singers in Kragerø Children's Theatre. Then I had a short career drumming in Kragerø Big Band, directed by legendary Harald Gundhus («play «on Tuesday, on Thursday»» which was how he explained rhythm patterns), but ny heart was set to more proggy stuff.
I recorded all instruments for (42) in Terje Solbakk's home studio to click tracks and prerecorded drum patterns, and having it all on Mac we set up the kit on the stage in Kragerø Biograf and recorded the complete drum tracks for the album in half a day. Two takes to each song, just a litte bit of patching required.
For practical reasons my later recordings have featured samples from the Boss 1180, and the kit wasn't dusted off until Band of Traders set up shop in Heistadpuben in 2018.
In 2013 (as far as I remember) I purchased a ddrum electronic kit, which made it possible to practice wielding sticks without too much disturbance. Sounds are good, the feel less so.
Djembe
Djembe (1997)
West African wooden drum, skin made of scraped goat hide. The name comes originally from Mali, combining the words djé (gather) and bé (peace). Widely used, and in my experience, it goes with absolutely anything.
There was this very dark-skinned guy in the Amsterdam flea market one day in 1997. I tried a couple, and he immediately put the price down from £140 to £130. I had all the time in the world and we ended up at £70.
I have played this in a wide range of settings, from children's theatre groups to choirs, from accompanying buskers to providing rhythms in church. And of course, this is featuring prominently on (42).
An incredible moment of musical communication occurred at Riddu Riđđu (indigenious folk and art festival in Kåfjord, Troms) in 2002, with a borrowed djembe at an impromptu jam around the campfire with Sergei Mamrukov, the percussionist from Semyon Magnit (a Russian group) and drummer Andrew Belletty in Yothu Yindi (a mixed white/aborigin band who provided the official Olympics song in Sydney 2000; as close as I'll ever get to international sports events). Incredible moments of flow and communication. A nod and a handshake from these two guys may well be the the greatest mark of recognition I'll ever get.
Bongo drums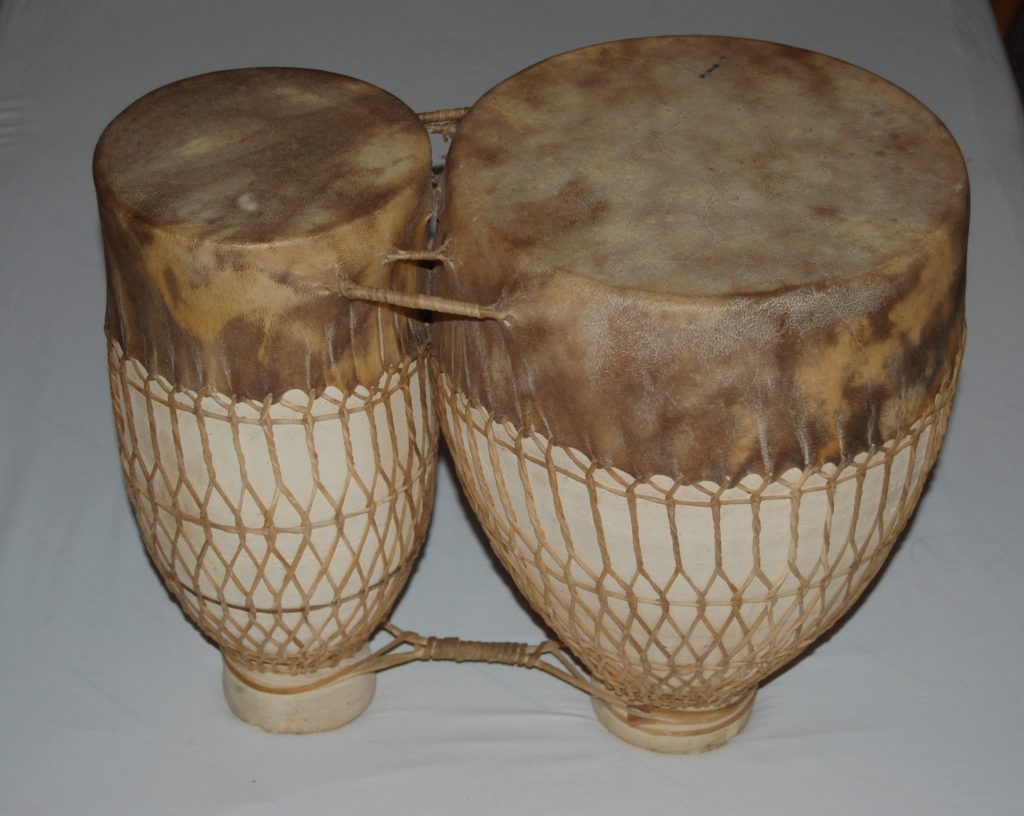 Moroccan bongo drums (1999)
Ceramic drums; skins fastened, and the pair bound together, with leather string.
There are plenty souvenir versions about; these are more serious. Brought to me as hand luggage from Marrakech. Used on (42) and with the theatre ensemble.
ddrum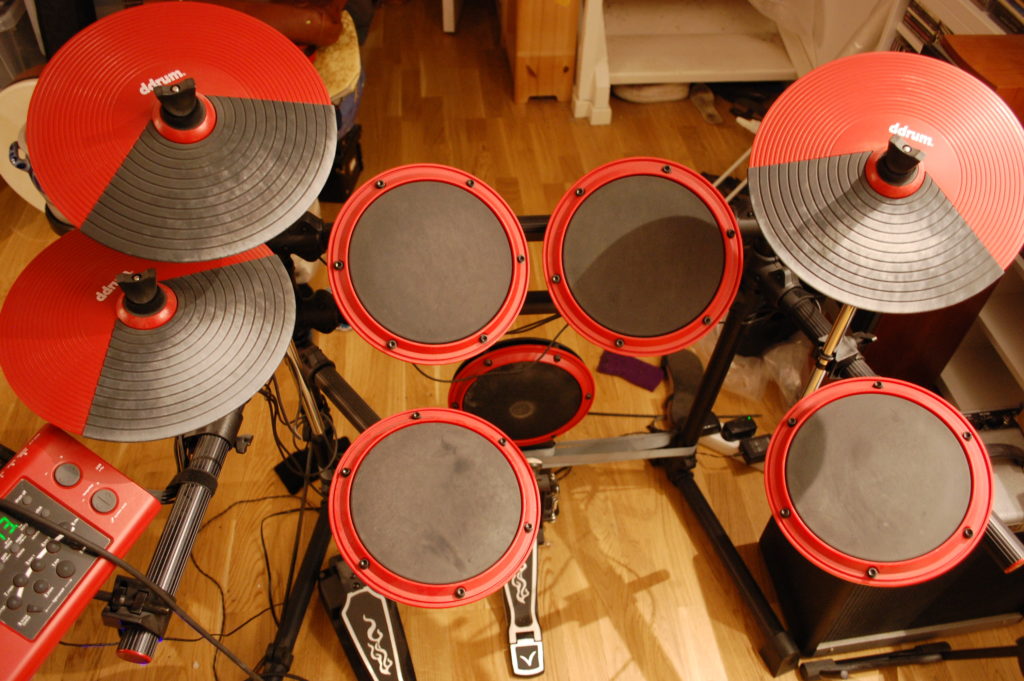 ddrum electronic drums (2013)
Birthday present from yours truly to yours truly. I have a knack for finding appropriate presents. After having programmed drums for a decade, it felt good to be able to hit something with sticks again. Surprisingly good sounds, and easy to set up a kit by personal preferences if you want. Of course there is a great difference between hitting a proper snare and a floor tom in real life, as compared to rather small pads that receive a beating without the same physical response. Better, nobody is shouting for me to stop the racket.
But nothing beats (ohno…) a real kit; see Tama above.
Fun point: This kit was made by the Swedish firm Clavia. You may note some resemblance in my choice of keyboards.
Various percussion
Tambourine
Indian hand drums, Tunisian mini darbuka, shakers, Remo bongo
Slightly embarrassing to admit this, but I bought my first tambourine in 1977 after seeing Jon Anderson with Yes: "I can play like that!" On retrospect I have to conclude he's quite good at it, but then, so am I.
Worked well with the theatre ensembles and in other social gatherings. Was crushed by a heavy member of the audience leaving at one show, so this is number two.
Like tambourine two, my popular banana hails from Ljosland. A great hit with the youngsters, especially in our staging of The Jungle Book. Worked well live with the band and trio, as well as in producing the singback for the audition for a local singer to perform with Madrugada in 2006. That got me (plus one) and Einar Bang on the guest list. Nice guys, the Madrugadas, but like many others I was stunned by the death of Robert Burås a year later.
I have not been to India, but I've been to Borås in Sweden. They sold Indian hand drums in the textiles museum. But my friends and colleagues Signe and Stein have been there, and two of their journeys brought me a couple of small drums.
The Remo bongos cost me about £12; the kind you bring to a party without fearing the consequences.
Tour
For the sensitive fingerplay comes step 12.