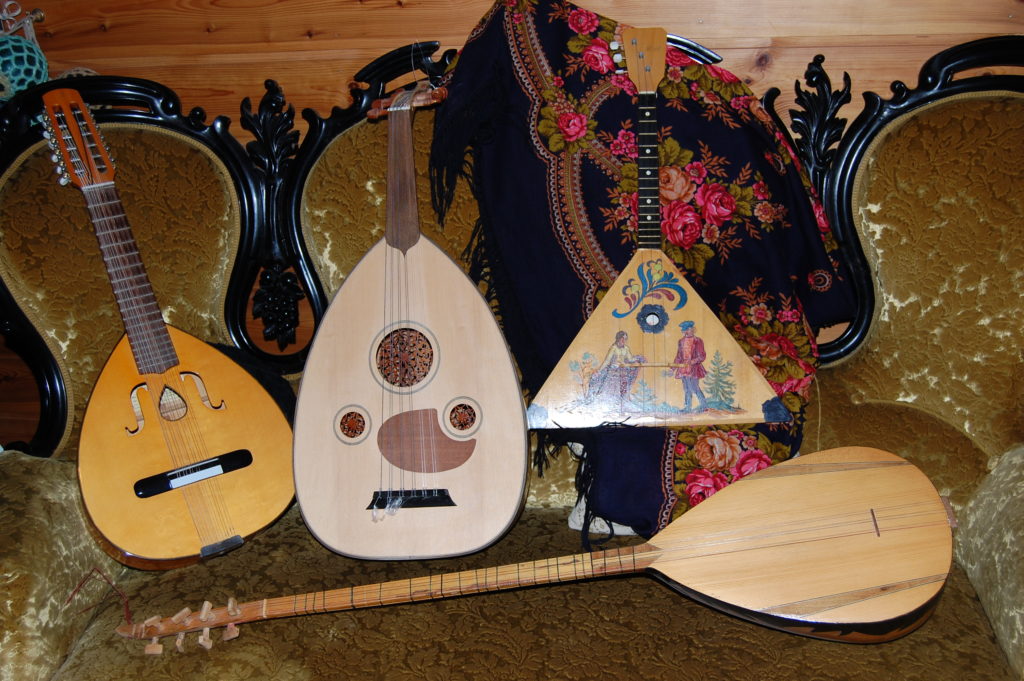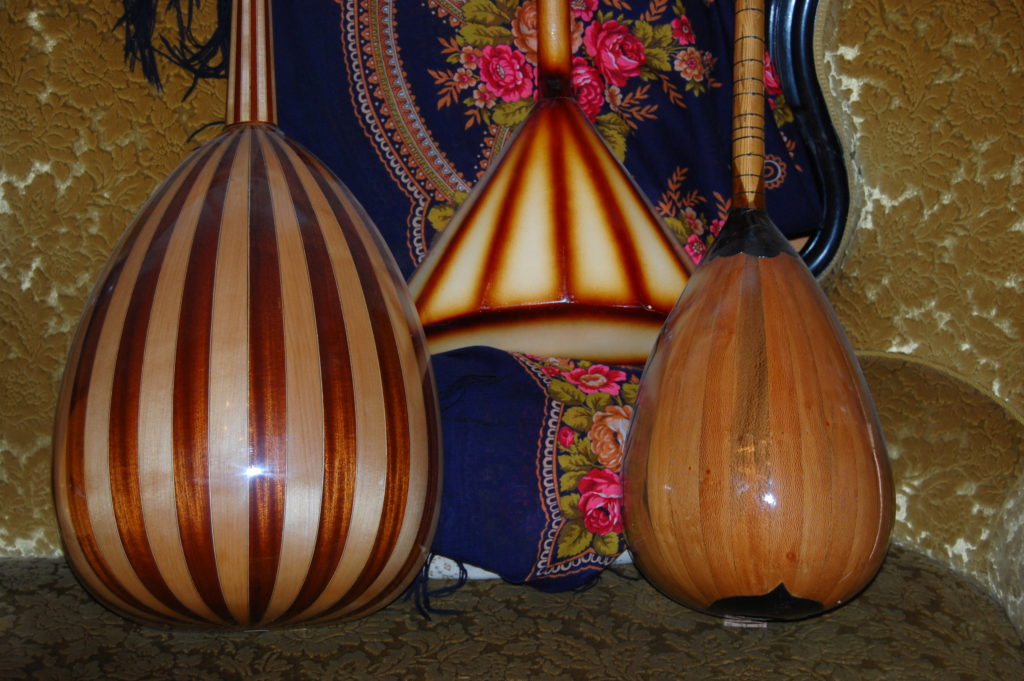 Saz

Saz (1989)
Long and thin-necked, three double courses and a small soundhole in the bottom end; a microtonal predecessor to the more known Greek bozouki. Boçuk means shitty in Turkish; no wonder they're seldom on speaking terms.
Again appearing with Firbolg, also in the Fjellvika sessions played by Harald Engen, and a short stint on (42). Unfortunately the dry Norwegian indoor winter climate caused the bowlback to crack.
Balalaika
Balalaika (1994)
Triangular bowlback body, three stringed Russian folk instrument
Balalaikas come in all sizes, but they all retain the shape and stringing, even the bass version used by my acquaintance Turid Jørgensen in Katzenjammer.
This tourist version hung in the window of a now gone thrift shop in Kragerø. In 2005 we went to St Petersburg, without picking up any increased interest in balalaikas. The shawl in the photo («veeeeeri ekspensive») came home with us. My balalaika stayed on the wall.
Oud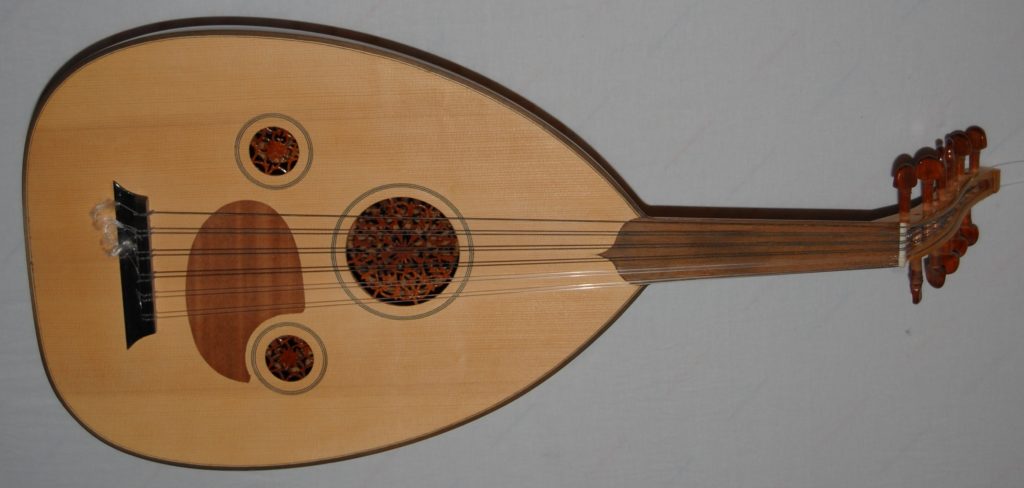 Oud (1995)
Derived from the Assyrian lute with centuries of tradition; pear-shaped bowlback body with short fretless neck, six courses (five double, one single). Close to the modern Western lute with the angled headstock; biggest difference is that the Western lute's wider neck is fretted.
Purchased in Izmir, Turkey. Yet another instrument that sits safely on the wall, as it is easy to look at and hard to play. But I managed a couple of exploring runs across the totally unmarked fretboard for parts of the introduction to Reise 2: Seyahat on (42).
Laúd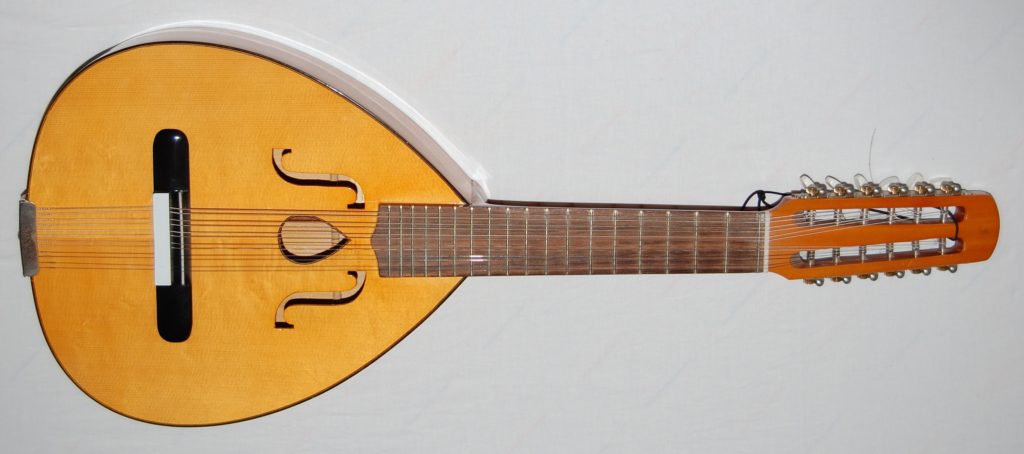 Vicenze Sanchis Laúd 1998 (1998)
Drop-shaped body, flat back; six double steel courses with slotted headstock.
Much used Spanish instrument, there is a smaller vesion called a bandurria.
Steve Howe has two of these according to his book; at first he called them Portuguese vachalias, but more correctly it is a laúd or Spanish lute.
I was looking for something jangly, and the Steve Howe connection made the choice easy. We stumbled into a one-year anniversary celebration of the small shop in Barrio Gotico, and we were provided with cava to salute Jesus the owner. A string was missing from the instrument, Jesus promised to turn up at the hotel with a replacement, and we eagerly awaited the coming of Jesus. He didn't fail us. I more or less wrote Viaje on the spot, cementing the desire to finally commit my music to a permanent medium. There was this song called Four Walls Four Corners from twenty years earlier as well, and eventually the laúd became the first sound to be heard on the album.
Mandolin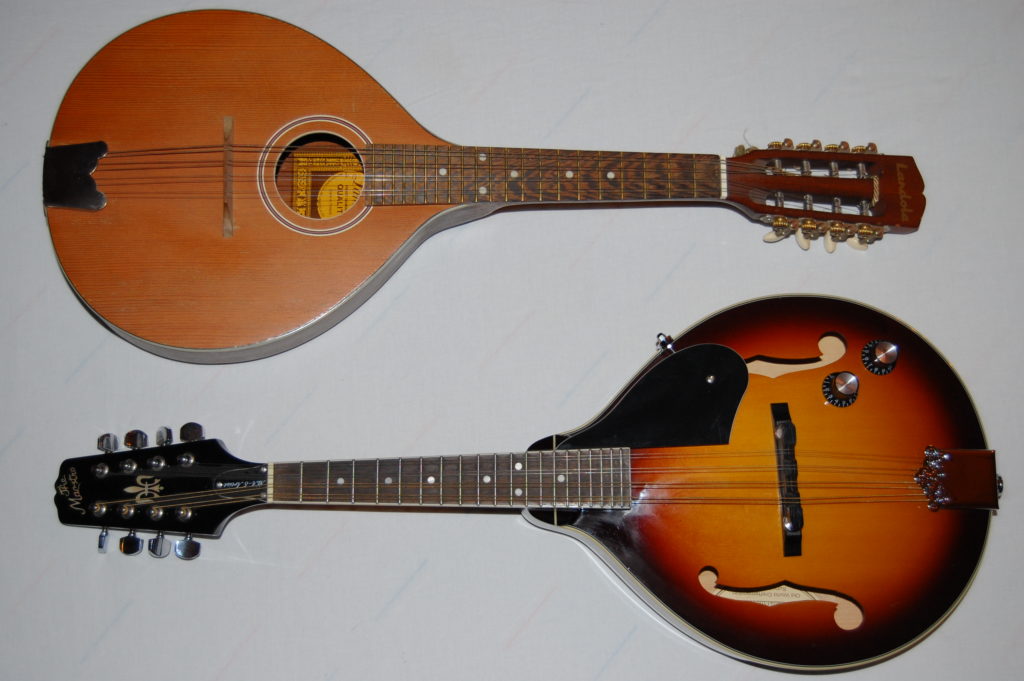 Landola mandolin (2001)
Teardrop-shaped, flat-back body with round soundhole and slotted headstock.
The mandolin dates from the 17th century, was far more important than the guitar at the time when Orville Gibson sharpened his carving tools, and comes in three different shapes: Roundback, archtop and flat-back. The flat-back is mainly used in British and Irish music. Landola is a well-known Finnish instrument manufacturer.
I almost knocked mye head on this in a music shop in Rovaniemi, took it down, strummed once, paid £75 and went back to the hotel. I practiced for three days before my debut as a mandolinist at the supper party during the 10th International Fibre and Fungi Symposium, in front of an audience hailing from four continents. Setting up with backing tracks on CD, the FR50 and the Landola, I performed some songs from (42) and a couple of new pieces.
Originally the mandolin is tuned in fifths like a violin, GDAE, but HEHE works excellently on Four Walls. If lost, remove the fretting hand and keep playing.
Maestro mandolin MA-5E/VS (2007)
DW04110016
This is an archtop with f-holes and modern headstock, made to American specs by Maestro which is one of Gibson's budget brands. Piezo pickup in the bridge, volume and tone. Looks like maple underneath the sunburst finish.
Home alone, surfing the net, sale at MusicYo. Spontaneous birthday present to self.
The damaged one was saved from a dusty store room in the cellar of the silverware factory where I was working at the time; they told me to take it home after an office party where I played some songs.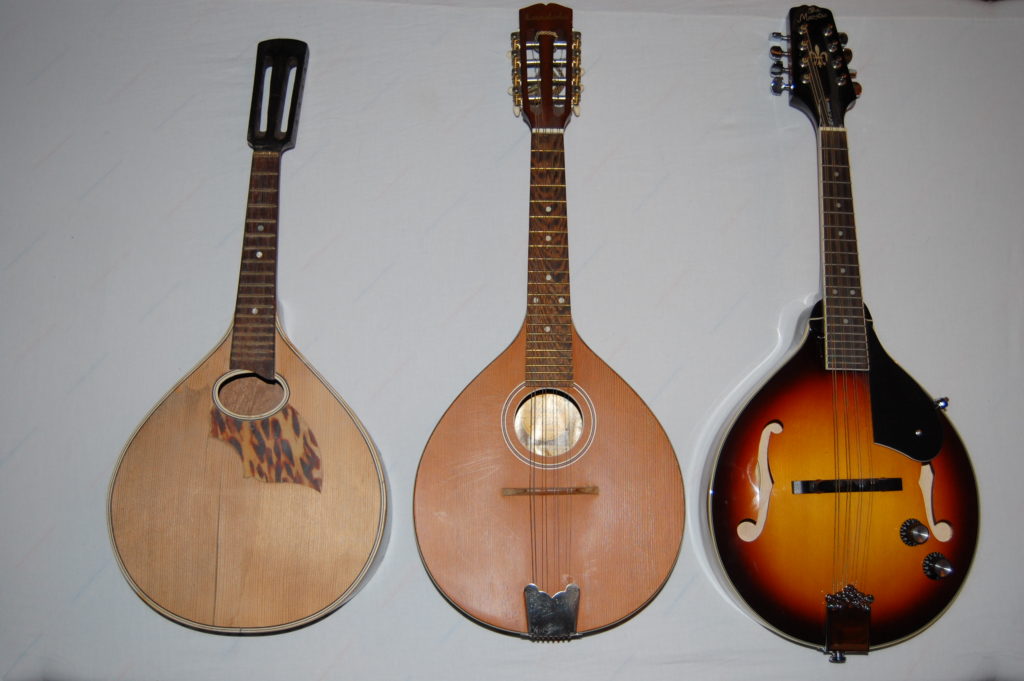 Ukulele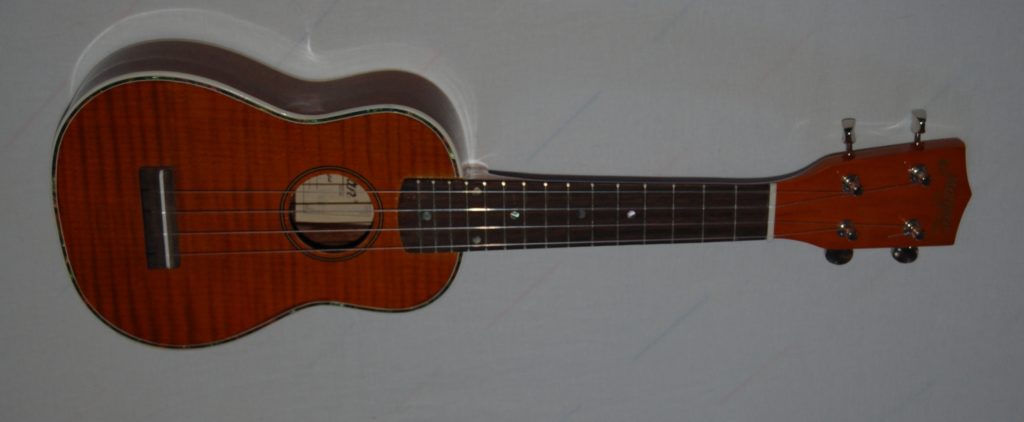 Morgan ukulele (2007)
Flamed maple and trimmings, but the body seems not quite symmetrical and the feeling is generally cheap. At £25, no wonder?
I was at Musikktorget in Skien, buying a seven-guitar stand and some strings, and added an ukulele without further consideration. Maybe I shouldn't have.
Oscar Schmidt Cuarto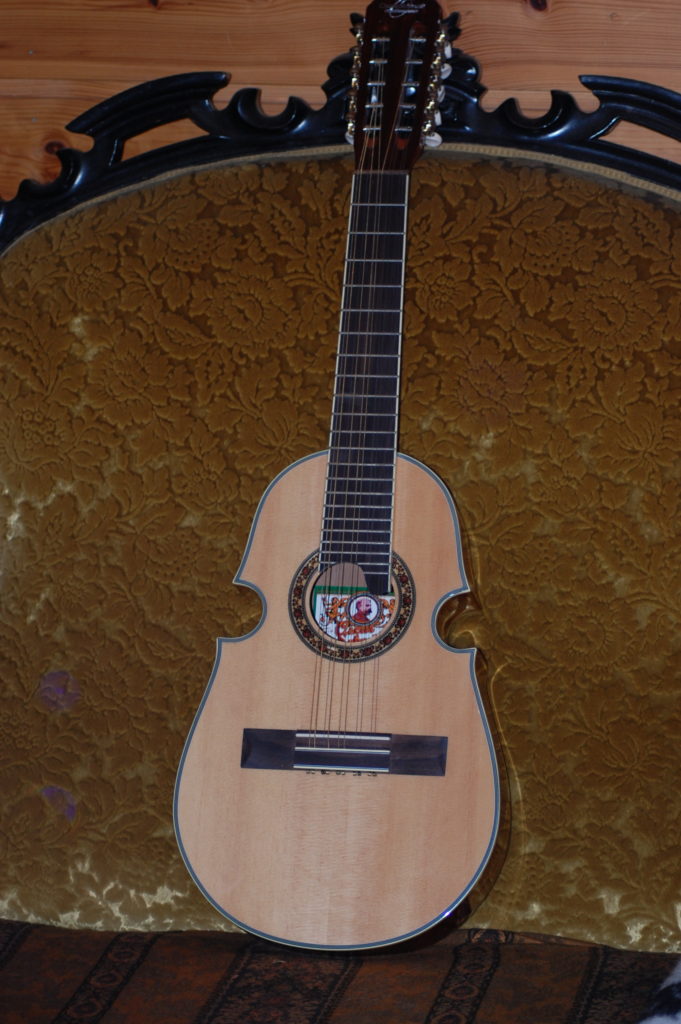 Oscar Schmidt Cuarto (2010)
Back to the beginning: Ekeberghallen, Oslo 11.11.77. Jon Anderson usually sticks to voice and tambourine, but at times he straps on a guitar. Here he played a weird acoustic ten-string with violin-like waist, sounding somewhere between twelve-string and mandolin. A bit like Steve's Laúd, but obviously not the same. On the sleeve of their subsequent LP Tormato, it was credited as Alvarez 10-string.
I wanted one. The search began.
For thirty-three years I expectantly browsed all the rows of acoustics I could lay my eyes on, I read all hints of instrumentation info on LPs and CDs, and I waited for some sort of revelation. When somebody invented the Internet I searched in vain for «alvarez» and «10-string», and starstruck as I was, I completely forgot to ask Jon on the occations I have met him.
Then I stumble into Kragerø Church as Mari Boine and band are warming up for their concert-cum-talk during the Philosophy Festival 2010 – and there it is, leaning on a stand, ready to be played by Georg Buljo. «It» is a Washburn Oscar Schmidt Cuarto, originally hailing from Puerto Rico, played in a variety of tunings. Georg Buljo, proving that serious musicians are a friendly lot, told me he was still trying to figure out the possibilities.
Enjoy concert, go home, power up computer. Search for Oscar Schmidt Cuarto, available. Photo of Jon found on the web, included as proof.
Liuqin
Liuqin (2013)
Having a number of instruments made in China, I am also the proud owner of one actually bought in China. This is a liuqin, a strummed four-string fretted instrument that's not too difficult to coax some good sounds out of. Found this rather quiet street not far from Tienanmen in Beijing with a number of shops carrying all things artistic. Solid build and nice details, it deserves some more playing than it has seen.
McNally Strumstick

McNally G Strumstick (2013)
The McNally Strumstick has three strings, tuned G-D-G or anything you like, actually. The frets make for easy playing in simple scales without bothering yourself with flats and sharps. (A seventh is available, though.) Not a serious instrument? Check out Jon playing excerpts from Olias on Youtube.
I like the instructions provided: 1: Squeeze one string. 2: Strum all three. 3: Repeat until smiling.
Celtic Harp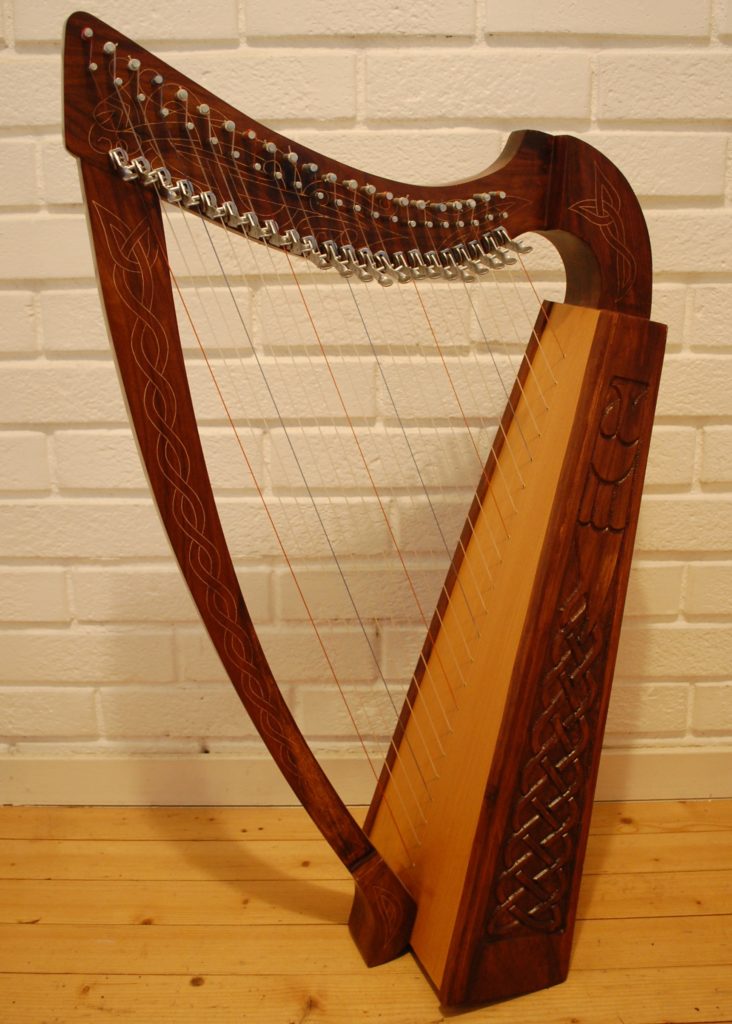 22-string Celtic harp
Rosewood, with ash soundboard
Bought from Elegance Products who provide everything Scottish (I may consider a bagpipe the next time…) although it turned out this beauty was shipped from Lahore, Pakistan.
Ukulele

Brüko soprano ukulele (2022)
Of German making, by the Brüder Kollitz, hence the name.
This was given to me by my colleague Elke, having been owned and played by her former husband Bernt Karlsen, a creative artist who sadly died a few years ago. He made objects (for want of a better name) that inspired thoughts, contemplations and laughs. And actually added «model» to my CV. Thanks, Bernt!
Will have to learn Over the Rainbow now…
Tour
As the theme is Strings and Skins, meet the skins. Step 11