Having a collection with a purpose might sound like a good idea: This one, that one, and those two go together. Nevertheless, there are oddballs that won't fit, but are way too cool to let go. Or have sounds I won't find elsewhere, or could fit in an overhead locker. Here is a small bunch of individuals that always bring a smile to my face when playing them.
Danelectro Doubleneck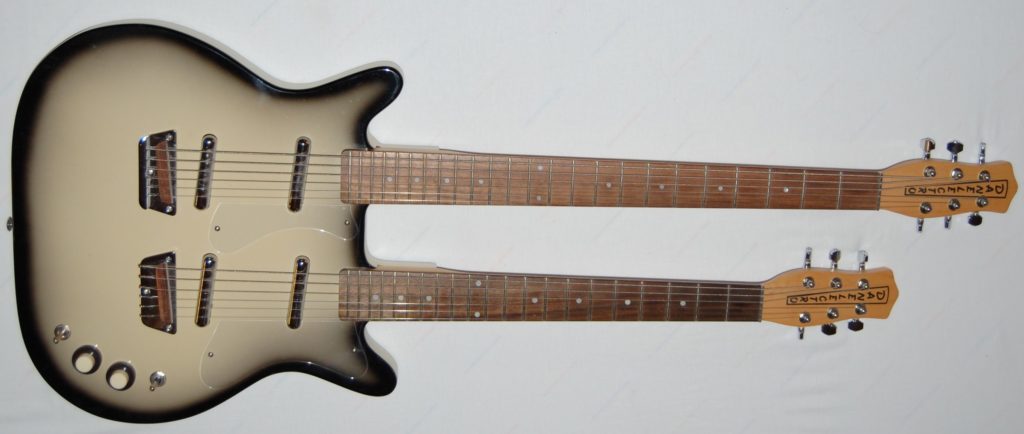 Danelectro Doubleneck 2001 (2001)
Two bolt-on necks; one regular and one baritone. Two lipstick single coil pickups for each neck, two stacked volume and tone, one three-way pickup selector, one two-way neck selector. Body made of hardboard and plastic.
Nathan Daniel offered budget instruments under different brand names from 1947. Budget, not cheap; the build and sound appealed to serious players like Jimmy Page. After being shut down in 1969, the brand was resurrected in the late nineties, appealing to retro enthusiasts. They produced effect pedals exclusively 2003-2005 before presenting a limited number of reissues and re-re-issues.
The oddballs have always appealed to me. I came upon the Dano website when searching for the Coral sitar, and the doubleneck caught my eye. I had seen Paul Waaktaar-Savoy of a-ha wield one on stage in 2001, and Asle at Ljosland gould get me one of the few imported to Norway.
Strumming an E shape chord (which is B in standard baritone BEADF#B) inspired me to write some heavy rolling themes. I also played it like a bass tuned down to ADGCEA before purchasing a proper bass.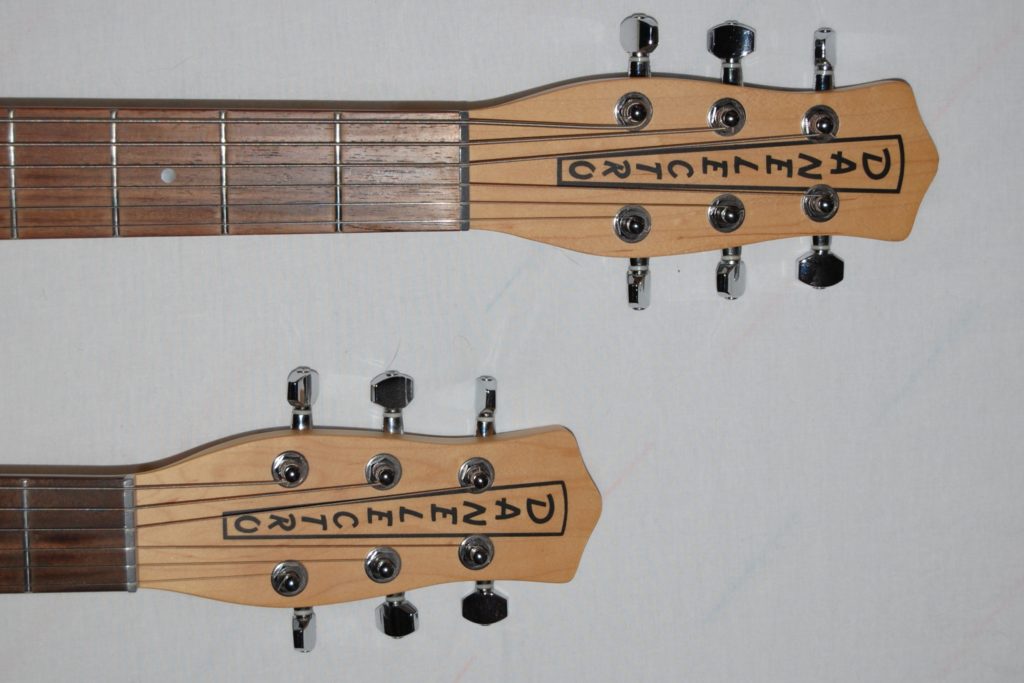 Artisan Lap Steel

Artisan lap steel (2003)
One single coil, volume and tone, six strings
The first electric solidbodies were lap steel, or Hawaiian, and there is a strong country connection here. But this kind of instrument has also found its way into more modern recordings, with Yes, Pink Floyd, and Norwegian artists Bel Canto and Knut Reiersrud. Horse not pictured. Well, I had my own horse for some years…
The last day in Britain, with the Epi Gold Top among the suitcases, just checking a couple of shops first. The hardest to find in Newcastle was The Guitar Shop, tiny, but with some interesting products. Among them, a lap steel. Too bad it was a demo model, but he could order one. The boat is leaving in two hours, I said, and my Visa card is probably empty of funds. Bryan took pity on a travel-weary Norwegian and called Visa. And there were some pounds left at the bottom; enough even for a £25 steel.
An hour after coming home the first sounds of steel on strings were recorded. Some hours of practice later I could accompany the vocals on Invincible Dream and on That Was Yesterday which still is in the making. Also illuding the cat Mons in the cheese factory on the soundtrack to Madame Osten's Mystery; written and played by me and some of the young film makers.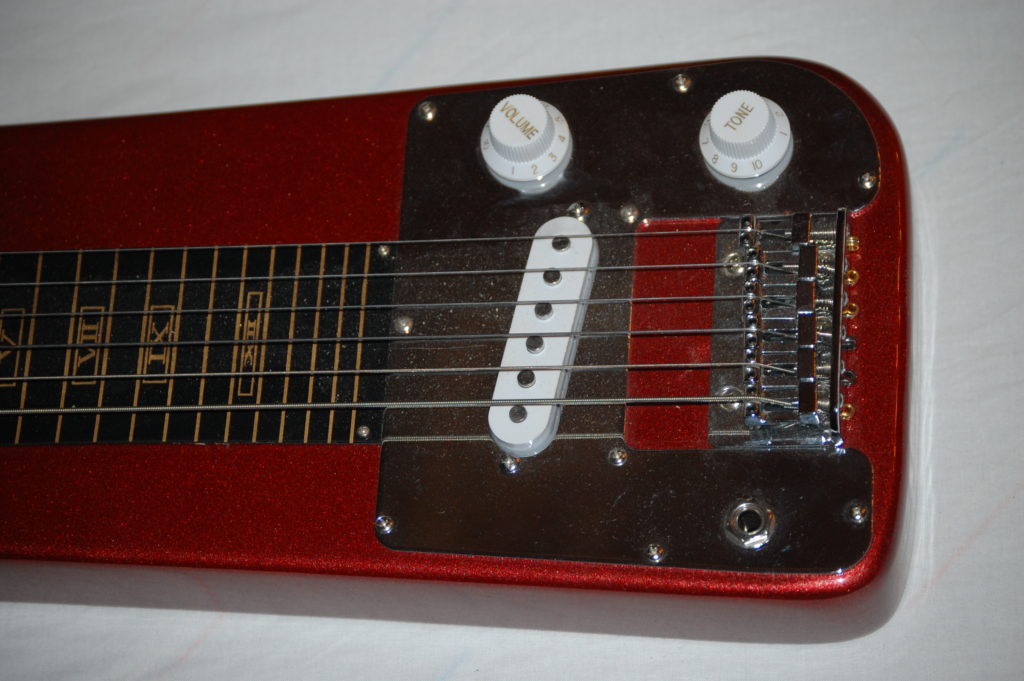 Steinberger Spirit

Steinberger Spirit GT-Pro 2003 (2004)
03014965
Headless through-neck, not much body, but comes with a fold-out metal support for easy playing sitting down. HSH, five-way switch, one volume one tone, Steinberger vibrato.
Ned Steinberger simplified the idea of guitar as much as possible, almost down to Les Paul's «The Log»: A plank with strings and pickup. Ned's first (basses, actually) were made of a carbon composite material, but the Spirit by Steinberger series is made of wood. The vibrato can be locked for exact tuning by the six knobs at the tail end, then fine-tuned as a whole. Pressing down on the whammy bar slackens the strings completely, but the construction ensures a perfect return to pitch.
Cool factor provided by Reeves Gabrels in Bowie's bands, and Steve Howe uses a twelve-string (with fuller body) for the epic song Awaken. Even more important is being able to fit it into the overhead luggage rack on an airplane.
Ordered by webshop one Tuesday, arrived at Oslo Airport Gardermoen on Thursday, and was delivered to my door in Kragerø on Saturday. Proves that Kløfta lies midway between Nashville and Kragerø.
It has been with me on a number of journeys by plane, boat and car, and features on a song about travelling called Time to Meet. I will never be able to top that solo again, ever. I'll find a way to let you hear it.
I will never get an Oscar for best film score, but twenty seconds of a song called The Ocean featured in a short film receiving an Amandus (no, not an Amanda, but a prize given by a Children's Film Festival to filmmakers aged twelve or so). I was asked to contribute to the following year's project entitled Madam Ostens mysterium (that's Madam Cheese), and the soundtrack included the Steinberger processed as bass and the Artisan lap steel illuding the cat Mons whirling around in the cheese machine. Brought to Ny Ålesund, Svalbard in 2008 along with the Zoom H4 and the Nikon D40, resulting in a multimedia show featuring photo, text and music. For me, the world's northernmost performance, quite some distance from both Nashville and Kragerø.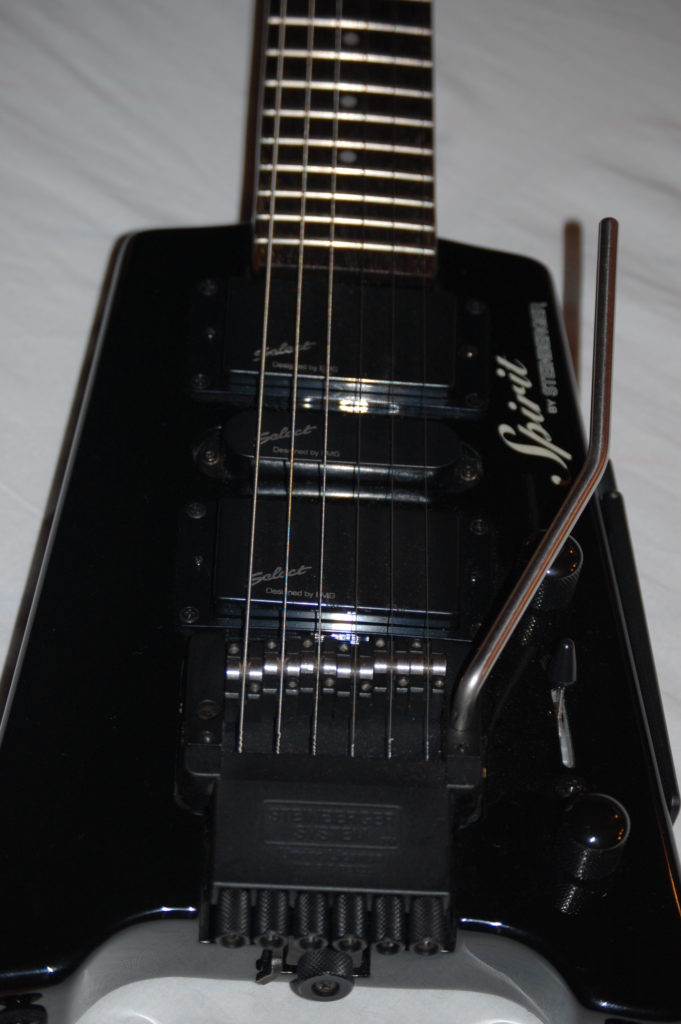 Jerry Jones Master Sitar

Jerry Jones Master sitar (2007)
Standard unbound neck and six on a side headstock. The rest is quite unusual: Teardrop body shape modified to enable sitting playing. Two lipstick pickups with two volume two tone; in addition thirteen resonating strings with pickup and volume/tone. Slanting bridge makes strings buzz, making the Indian sitar sound from numerous sixties recordings. Not every band could travel to India, like the Beatles, and acquire the real thing.
Danelectro founder Nathan Daniel made the original Coral model in association with session player Vinnie Bell. Later, Jerry Jones produced an almost identical model (and others as well) between 1988 and 2011. As the Danelectros are hard to find, the Jerry Jones too is now sought after as Mr Jones has retired.
One November night in 1977 I saw Steve Howe embrace a Coral sitar on a stand as the introductory solo on his 345 seamlessly blended into the first verse of Close to the Edge. I have had a soft spot for jangle for a long time, as in mandolin and twelve-string guitar, laúd, charango and cuarto. This sound tops it.
I tried to make my own by cutting the bridge plate of a Squier Tele in two and adding a hand-bent buzz bridge (see the Telemarkster). Incredibly enough, it worked. Five years later I was in a negotiating situation as my partner was stuck in a Tromsø restaurant with insufficient funds. We made a deal.
There are songs in the making, and the artistic shape of the body is pleasing on the eye every time I take it out of the case.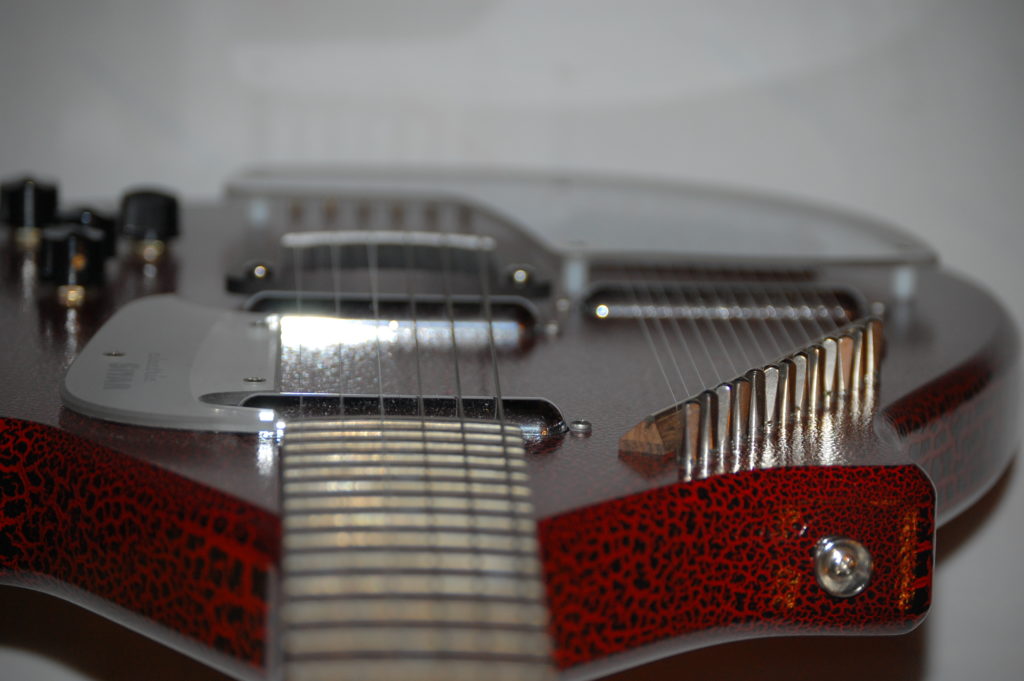 Jolana Iris

Jolana Iris (2012)
In Berlin with Kragerø Art School. An Internet search had uncovered a large-ish shop a few blocks north. Slipping away from a tight schedule I explored, but there was nothing picking my interest. (Alright, I may seem a little arrogant here. But as of November 2013 my collection has grown, in numbers and in purpose, to a level where the growth happens more downwards and outwards, if you catch my meaning. Some icons are still on my wish list, but at this time they were well beyond budget. Strat? Has two. Tele? Yes. Gibson LP? Has two. SG? Check. Gretsch? and so on.) OK, Höfner and Framus do have good models, but none of them spoke to me in that way.
So I look distractedly out the hotel window and notices the guitar shop right across the street.
Well done, Sherlock.
Shop turns out to be workshop, with a very forthcoming luthier showing me a number of interesting items that sadly were not for sale. And have you been to the second-hand shop further up the street? The owner could be a little grumpy, though?
A veritable treasure trove, especially for amp and effects enthusiasts. Some of them looked to be from the most secret arms caches from the cold war. We were in the former East Berlin, after all. No grumpiness to be detected, and as I pointed in all directions he obligingly fetched and plugged in. Among the older versions of the mentioned Höfners and Framuses hung a Jolana Iris, a Czech model that was the main tool for sixties German bands. I fell for the sound, the nice price, and the small screwdriver hidden as part of the front strap button.
My new friend in the workshop had offered to remove the neck to save a £70 luggage fee yet again. He agreed that this was a bargain, and so I felt that the trip to Berlin had yielded more than avantgarde art and German beer.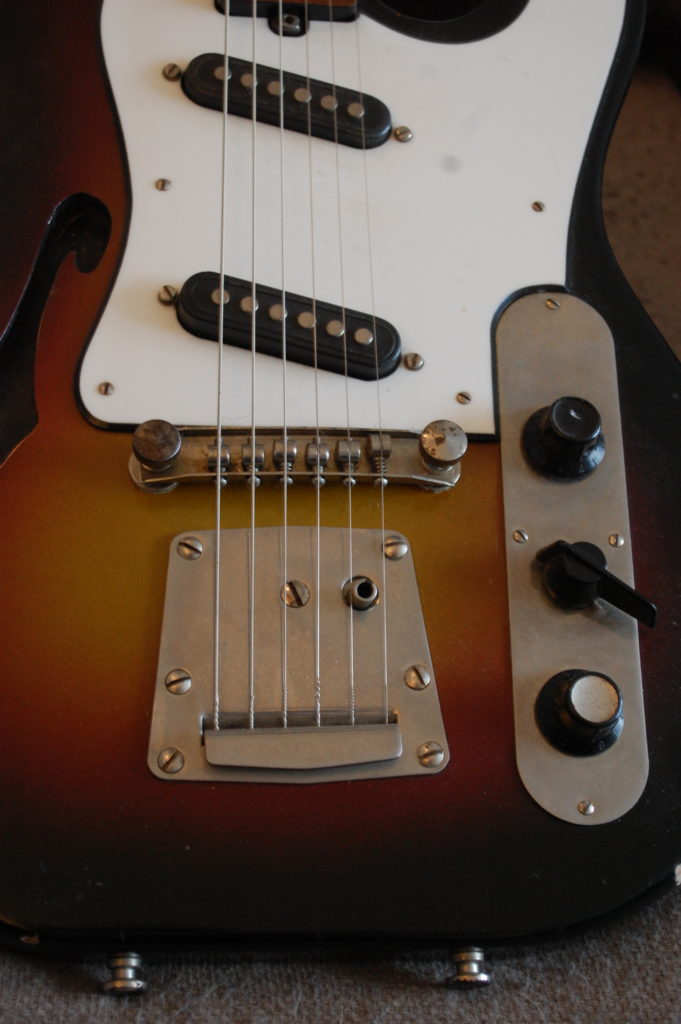 Revelation 12-string

Revelation VTX63/12 (2015)
A21940408
Twelve-string bolt-on neck, three Entwistle pickups and controls in Strat layout, okoume body moulded on the Vox Phantom.
Originating from the German Hohner company, the Revelation brand was put on guitars in 2010 when UK distributor Sutherland decided to present a collection of distinct instruments with a British twist.
London, 2015. Or rather, Horley, with a day's outing to the capital, taking in London Eye, The Mousetrap, the Marquee Club-turned-Wetherspoons, and of course Denmark Street. I got to handle the most expensive guitar to date, a £15000 fifties Tele, and I wished I was rich. Across the street from the former Marquee was Macaris, why not have a look? They had this twelve-string, I liked the feel and sound, but could't decide. We walked on and waited to cross Phoenix Street, but realised it was only five minutes 'till closing time, and dashed back.
The next day we headed for Brighton after spending some time getting out of Horley and encountering a curb on the way. Brighton is the home of The Guitar, Amp & Keyboard Centre; I did not buy anything there. This time.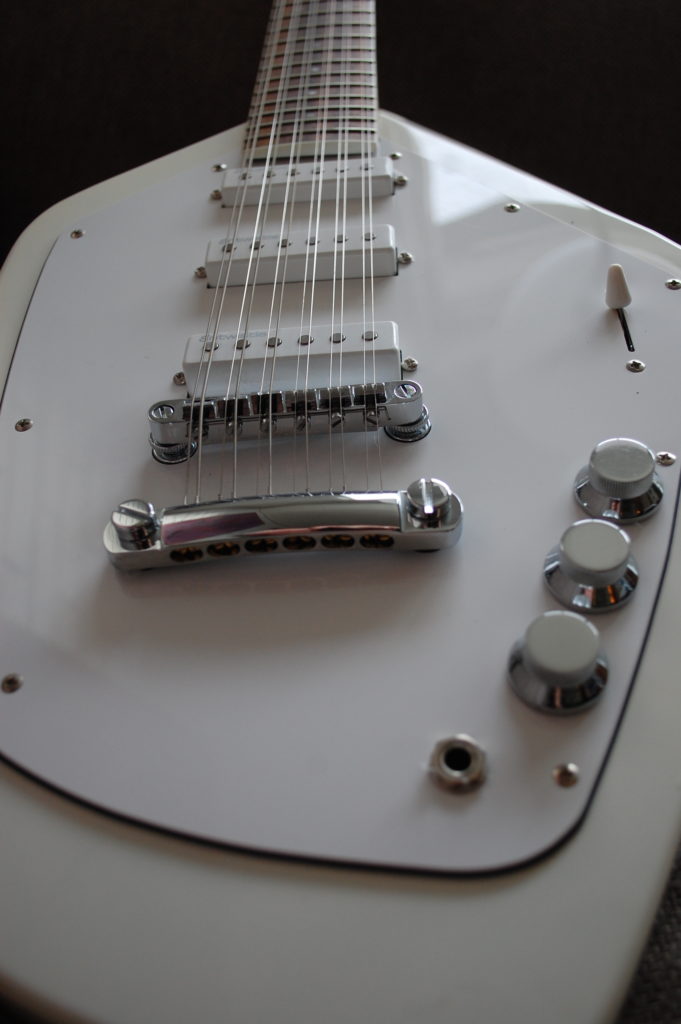 PRS Custom 24

PRS Custom 24 1997 (2023)
Mahogany with a maple top, set neck, rosewood fretboard, locking tuners, one volume one tone. Two humbuckers with options: Position 10 (yes, it says so): Treble HB, 9: Outside coils, 8: SC in series, 7: SC in parallel, 6: Neck HB.
I haven't really looked at PRS before now. Maybe out of fear of being hooked. Rather expensive, and with a boutique furniture vibe; even Les Paul Standards seem like rubber boot workhorses.
But then temptation found me as I put the 335 up for sale, and a nice guy in Trondheim suggested an exhange.
I am hooked.
Galleries of cool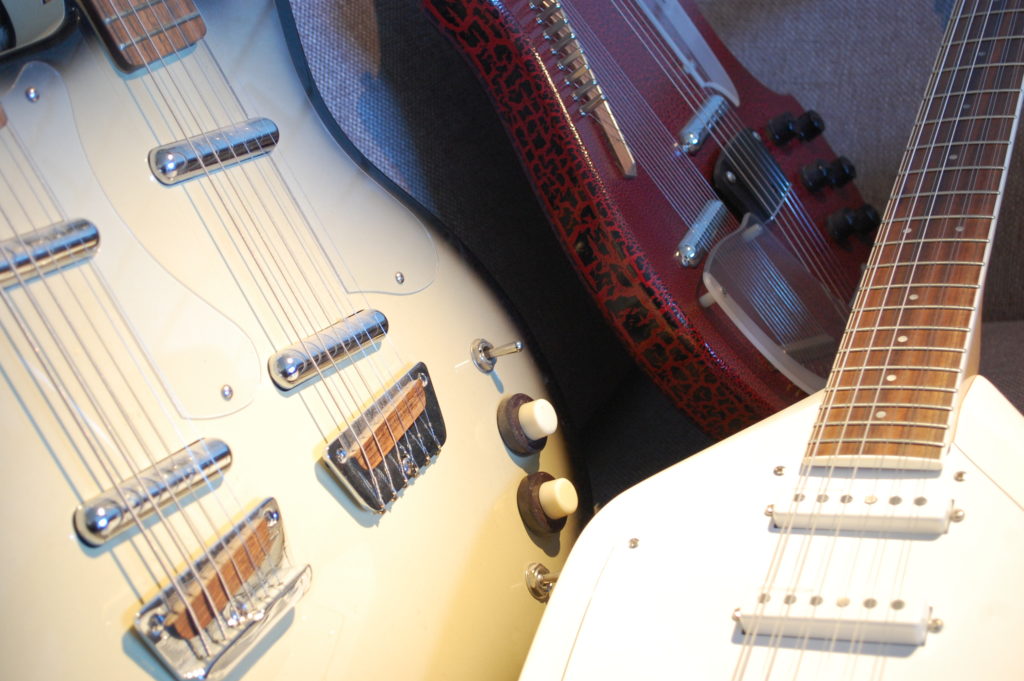 Breaking out of the definition of a guitar having one neck and six strings, these three carry four necks and forty-three strings between them. Tuning is less a challenge than expected. Danelectro doubleneck, Jerry Jones sitar, and Revelation 12-string.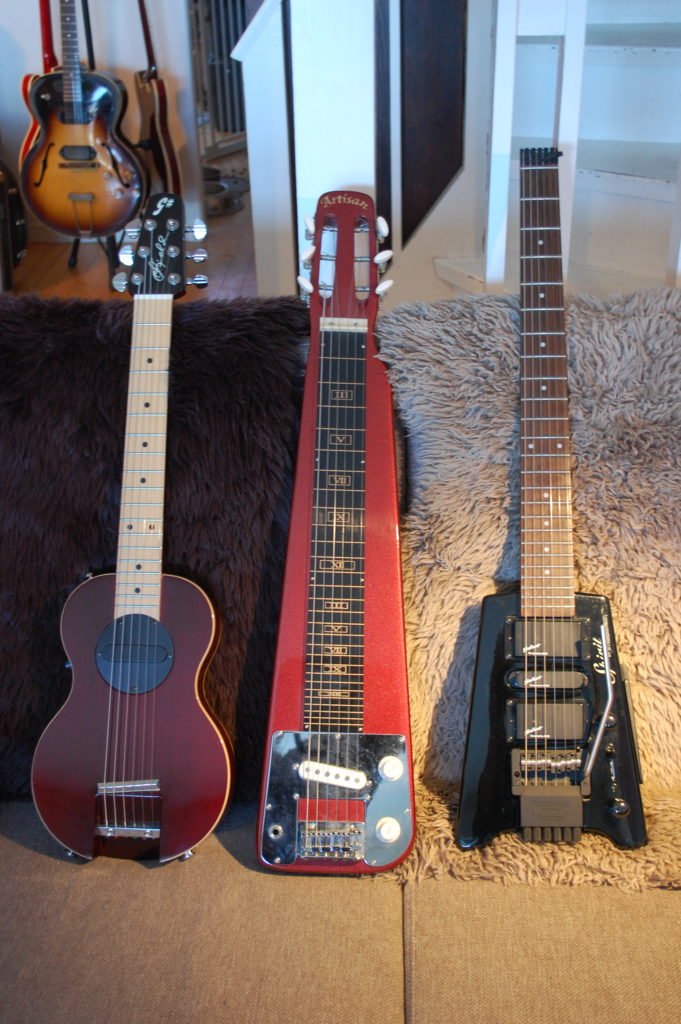 As opposed to the ones above, here are three that pack a lot of power in a small frame. Three very different voices. Steinberger, G# and Artisan lap steel.
Tour
Guitars aren't everything (but close). See more in step 9.