Most of my family of acoustics are Ibanez branded. The first Spanish, later the Masa jumbo, then a matching electric nylon. There is a lovely sunburst archtop as well, and to complete the natural trio I got an acoustic bass.
The Suzuki looked too good to miss out on, and sounded even better. Let's name it a friend of the family. It also seems to have some genes in common with certain members of the Gibson clan.
Playing, I do prefer electrics. I can play louder without sounding louder, if you get my meaning. But at times the pure acoustic sound reflects my mood.
Ibanez 2840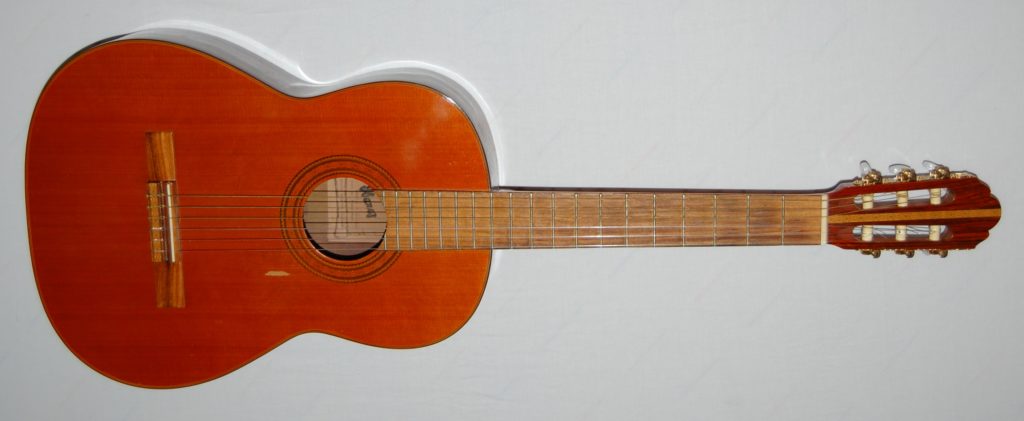 Ibanez 2840 1974 (1974-)
Nylon-stringed classical guitar
Ibanez have provided good acoustic guitars from the company's beginning. According to the label inside this model is "specially made for Scandinavia".
I would need a nylon-stringed guitar as well, and again I went to Imerslund. This has been with me the longest; at the time of writing forty-seven years uninterrupted.
Most of the material presented on (42) was written on this one, during late nights in my room around 1977-78. Played in public by my hands or others in Firbolg (folk/renaissance quartet from 1989 to 1991), and on record for the soft parts of (42). Easy to turn to when needing contrasting sounds on further home projects.
I offered to accompany a fifteen-year old girl singing The Rose in her grandmother's funeral (without having heard her in advance); this turned out to be a moment of goosebumps for everybody.
The disadvantage of the classical guitar, at least for an electric player, is adjusting to the wide flat fretboard. I found a great substitute in Helsinki of all places – see AEG 10NE below.
Ibanez FX72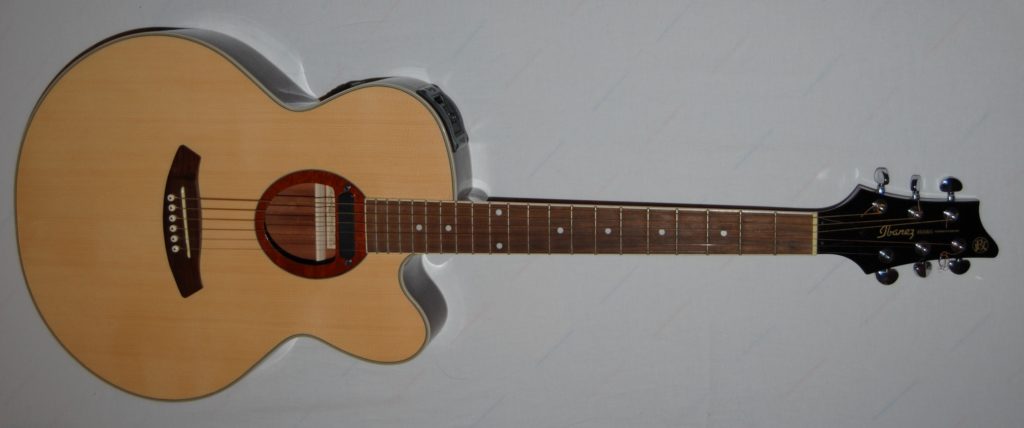 Ibanez FX72NT 1201 Masa Commemorative (2003)
SQ02081563
Jumbo with a cutaway, piezo bridge with Fishman Sonicore pickup, Ibanez magnetic between soundhole and neck, eq and blend controls
The Masa series is honouring the achievements of the Masao Hoshino who was instrumental in rebuilding the Ibanez guitar making facilities destroyed during World War II. This is one of the two or three variations. Lasted for a year or two.
How can I be 1250 miles away from home for two weeks with no guitar? I couldn't. I pictured myself on the porch, and in that picture was a steel-strung acoustic. And not a dreadnought; I have never liked the shape. So the jumbo with electronics on Ivar's wall slid quite naturally into my hands.
Works wonders plugged in on stage, but for recording you can't beat a close microphone. The only drawback with this purchase is, after eighteen years there is still a strong smell of some perfume from the case.
Played everywhere, including with the theatre group, in the burial chapel, in birthday parties. I wrote Pictures of Rain on it, after a glum bus trip to Tromsø that brought out my melancholy side. Featuring in performances by both the EH Band and Trio; Erling, Felix and I have put it to good use, as well as in Kragerø Session 2009.
Ibanez AEG10NE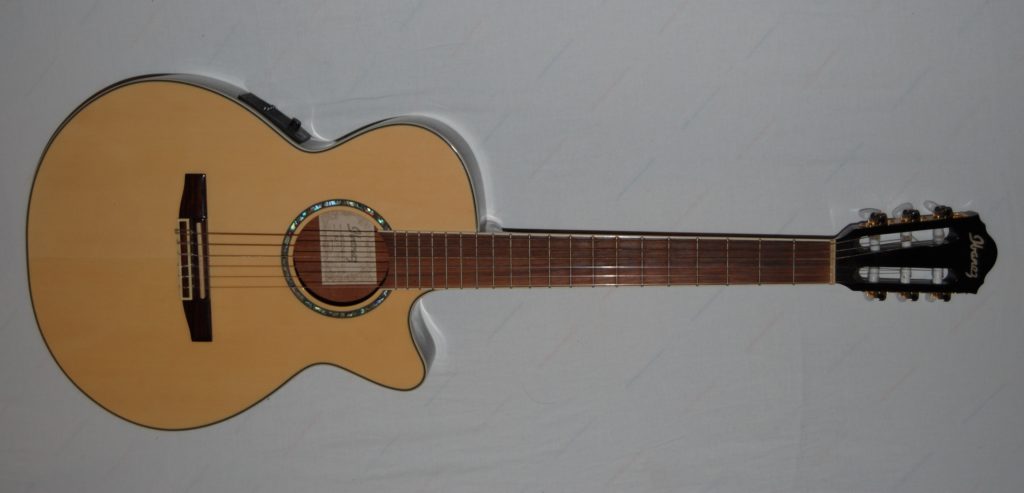 Ibanez AEG10NE (2005)
SQ05040051
Full-bodied classical nylon-stringed electro-acoustic. Spruce top, mahogany back and sides, rosewood bound and rounded fretboard, electric style. Jack and XLR sockets.
I have tried electric nylons several times, like Godin, Gibson Chet, and a Yamaha AEX500N that got sold before my thinking was done. But in Helsinki, Finland I found this, and a luxury case as well as the journey was only just begun. How do you usually handle going into Russia by train, carrying a guitar case, without any hassle? No problem whatsoever, it turned out.
I felt sorry for the American in front of me in the line at St Petersburg's surprisingly small airport as they tried to pry away the plastic covering his passport photo. I stood behind him with my guitar case, trying to look friendly and cooperative. It worked. He got through, by the way.
I have a habit of writing in hotel rooms. Naming songs after other women may be skating on thin ice, but Natasha's Song stemmed from hearing the receptionist's story from her home town Beslan, before moving to St Petersburg. Still she did't feel safe.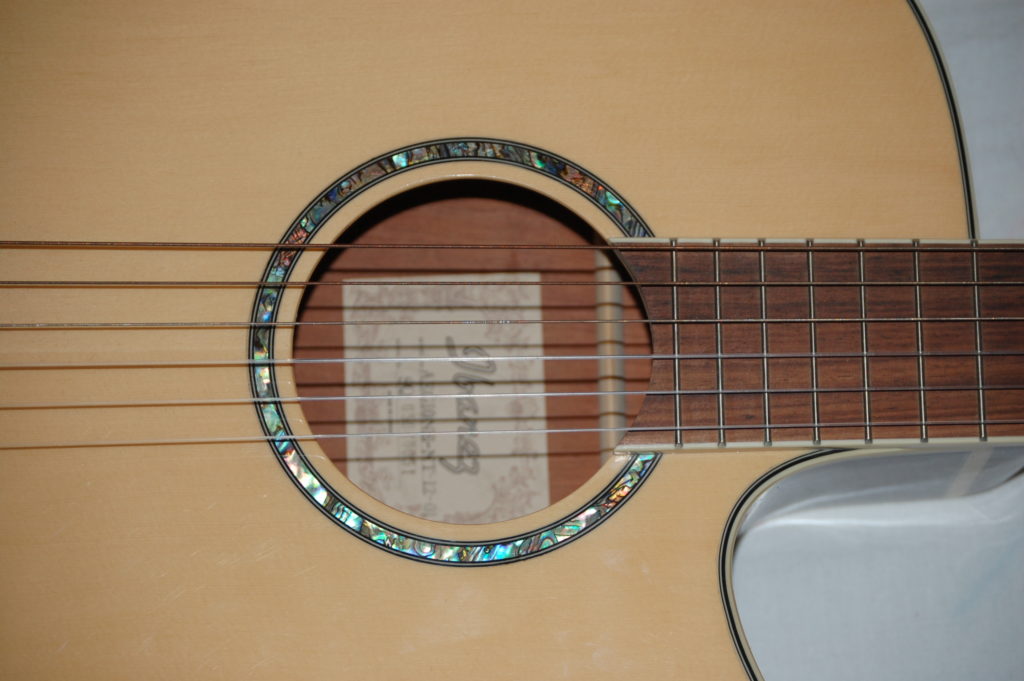 Ibanez Artcore AF84 DVS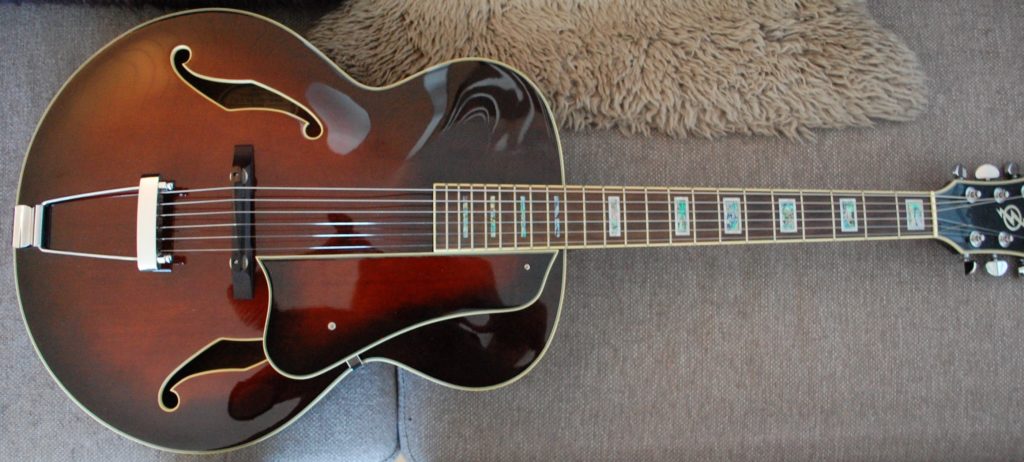 Ibanez Artcore AF84 DVS 2004 (2004)
S04064043
Classic archtop with f-holes, no cutaway. Spruce top and pickguard, maple back and sides. DVS denotes Dark Violin Sunburst.
The reply to a mail to Pål at Norsk Musikkdistribusjon told me that this is a Limited Edition. These are usually presented at the Frankfurt or NAMM shows as part of a limited production run, and a very few find their way out to distributors around the world. The AF-84DVS was presented at NAMM in Los Angeles in January 2004.
I was home alone on a Saturday off, and the bus schedule fit a day's excursion perfectly. A couple of museums, a couple of beers, a nice meal, and my fifth Ibanez – again at Imerslund in their new location. Great full-bodied sound, records extremely well with a condenser microphone. Not an instrument to drag along to rugged parties.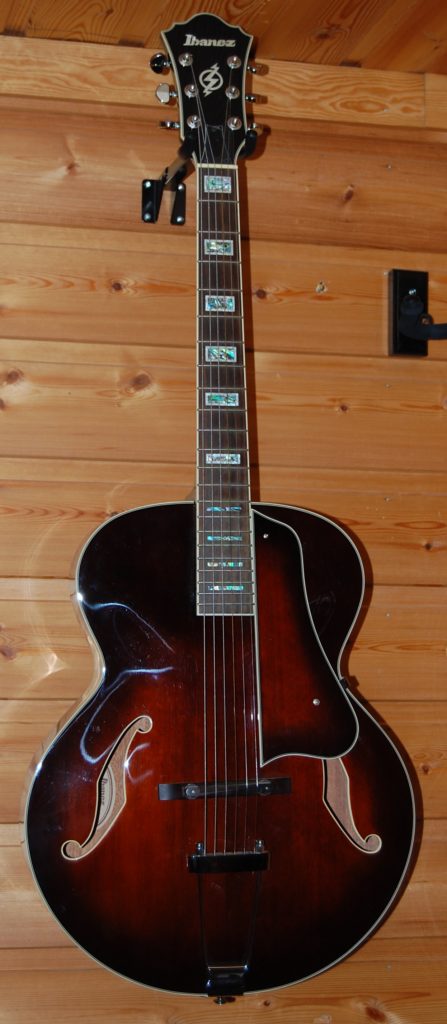 Suzuki P-20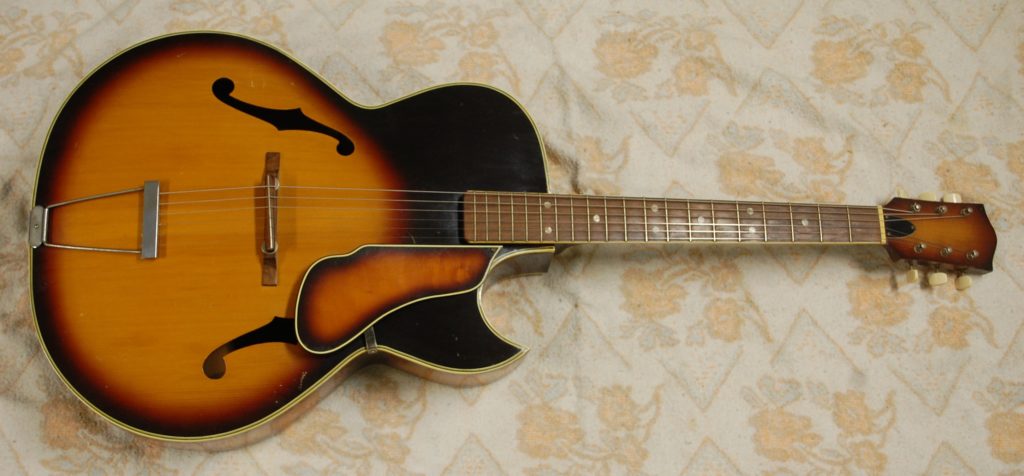 Suzuki P-20 1950s (2018)
17'' body, florentine cutaway
Spontaneous trading again. Seeing the likeness to one of my dream guitars, I wanted to include this as a companion to my ES-175 as this is essentially the exact same shape without the electrics. It can't be that bad, can it, even at £250?
It wasn't bad at all. Loud, crisp and with attack, and defined bass. It has a sort of well-dried feel, as if it has shaken off all the damp muddiness from its sixty-plus years and is now ready to speak after years of silence. The listing on eBay (from Germany) says 60s or 70s, hints on the various forums could even put it in the fifties. Like me. Crisp and with attack? Hope so.
Ibanez PCBE-12

Ibanez PCBE-12 acoustic bass 2019 (2019)
Basses are always useful, so let's prepare for the Unplugged session. A natural Ibanez wil go well with the cutaway steel- and nylon-strung electro-acoustics. Ordered from Rich Tone Music in Sheffield. Expectantly waiting. Sign, receive, unseal.
It was mahogany brown. What? Oh no. Nothing wrong with feel and sound, but it was brown.
Send message. Long story short, Rich Tone Music sent a courier to pick it up, and shipped the right one. Recommending this shop! There's a happy pseudo-bassist giving them a thumbs-up (instead of playing thumb bass).
Gallery of acoustics
Trio of natural Ibanezes: Bass, nylon and steel-strung.
Three different acoustics, sharing full shoulders and no electrics. Two by Ibanez and one Fender.
Tour
Rested, you may want to review the cool variations on the guitar theme at level 8. Did I sound like a computer game? Didn'inten'do.