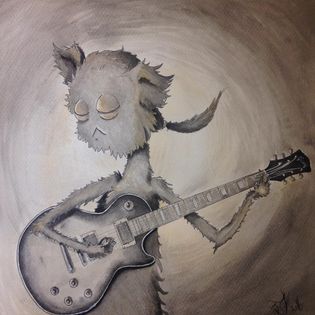 Me and my Gibson Les Paul Standard. Painting by Ragnhild Camilla Kristoffersen, 2015
The Facts
Words and music: Erik Andal Hofsten
Camera: Nikon D40 and a few by iPhone
Photos of instruments by me
This website on Instagram: #thestringsandskins
Mail connected to this website: erik@erikhofsten.com – further info on actual guitars welcome.
Comment page taken down as spambots were invading.
Mail about everything else: mesterik@online.no
The Thanks
Thank you for musical inspiration, by vinyl or compact cassette:
Jimi Hendrix
Eric Clapton
Tony Iommi
Ritchie Blackmore
Jimmy Page
Mick Box
David Gilmour
Steve Hillage
Inspiration and physically meeting:
Terje Rypdal
Steve Hackett
Steve Howe
Marius Müller
Nils Einar Vinjor
Mike Scott
Staffan William-Olsson
Trevor Rabin
-and especially Jon Anderson, who is an all-time hero, with a guitar mastering level that matches mine. Having a signed photo of a hero is cool, right? Having a photo of yourself and a hero is even cooler, isn't it? Having a signed photo of yourself and your hero could maybe top the coolness scale?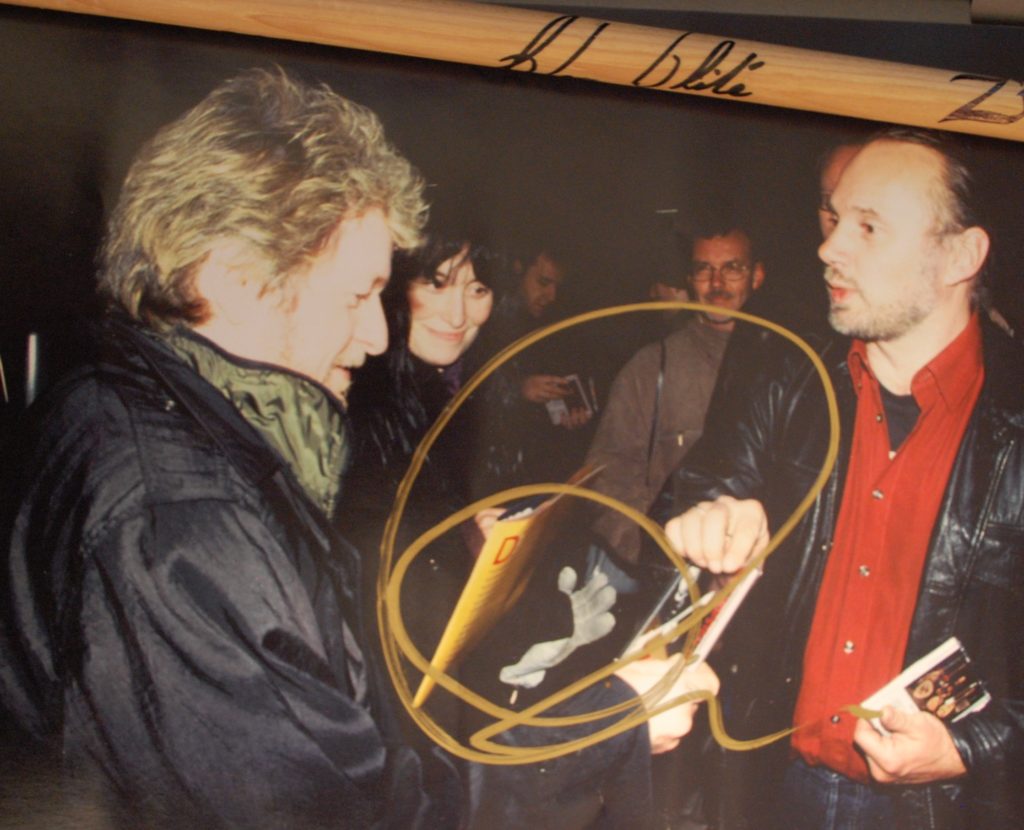 There is an incredible number of good musicians out there who have given me great moments of listening. It also turns out they are really nice people when you meet them backstage – and I have wormed my way in whenever I could. Or hung around by the artists' entrance. Nazareth, Ruphus, Magna Carta, Radka Toneff, Jonas Fjeld, Anne Grete Preus, Silje Neergaard, Kari Bremnes, Velvet Belly, Bel Canto, Midnight Choir. Morten, Pål and Magne of a-ha on several occasions. Various Yes lineups that included Chris Squire, Rick Wakeman, Bill Bruford, Alan White, Trevor Rabin (nice breakfast at the Thon Spectrum), Billy Sherwood and Jay Schellen in addition to Jon and Steve. Tony Levin, Nick Beggs. They may not remember me, I remember these meetings vividly.
Thank you to my co-players:
Kai, Ulf and band, practising in the screening room at Marienlyst. My contribution was mainly vocals on School's Out and maybe a Gary Glitter song, but more important, it was a band, proving that four or five guys could play music without being Deep Purple.
Broken China was Frode Viken's band before Rollaug and, eventually, D.D.E. Geir and Ove on guitar, Rune on keys, Frode himself on bass and everything as he owned most of the equipment, and me on drums for a period of time.
Stein Roger, Nils, Ian, Arild, Harald, Terje in Killing Floor who spent five consecutive Whitsun holidays in a remote small farm in Trøndelag around 1990. I played drums, we all wrote and drank, and recorded on cassettes.
Einar og Leif who mixed renaissance and folk music in the ragged quartet Firbolg. We even played in the Norwegian Opera house (former location). Well, not on stage, but in the foyer at an exibition opening. Painter Christina Kløvig had portrayed soprano Torhild Staahlen, as far as I remember.
The choir Lydbøyen (the Sound Buoy is floating just outside Jomfruland, warning ships of dangerous waters) needed instrumental help, enlisting Anders Tyvand on piano and me on drums for a couple of shows. Anders moved on to politics, having a seat in the Parliament for four years.
Klaus, Terje & company ran a covers band, I sat in at practice while the regular drummer tended to appear in public. Practice isn't bad, though.
I played drums and percussion with Kragerø Children's Theatre for five seasons, in different band settings. They say drummers always sit in the shadow of the popular guitarist and even the bass player; not so when the ensemble is aged ten to sixteen. «Please, can I try the drums?»
The other bunch of kids in the group is aged eight to ten; I provided percussion and guitars for them as well. Linn was great on piano.
Big thankyou to the EH Band/Trio: Erling Laland, Kjetil Valldal, Felix Berthelsen, Marius Berthelsen.
Mick Travis on busking guitar and vocals; me on djembe.
Billy Lätt on violin; me on guitar.
Hans Martin Eriksen on keys; we played You'll Never Walk Alone at a funeral service. Me on lead guitar.
Band of Traders: Three guys with a passion for buying (and reluctantly selling) gear. Espen Rugstad on guitar, Stewart Håseth on bass, me on drums. One paying gig at Heistadpuben, one appearance at a jam evening at Kafé K.
The Seventies
Left: Painting by me, 1973. Middle and right: 1979. I had a defined taste in denim, and a serious look while playing.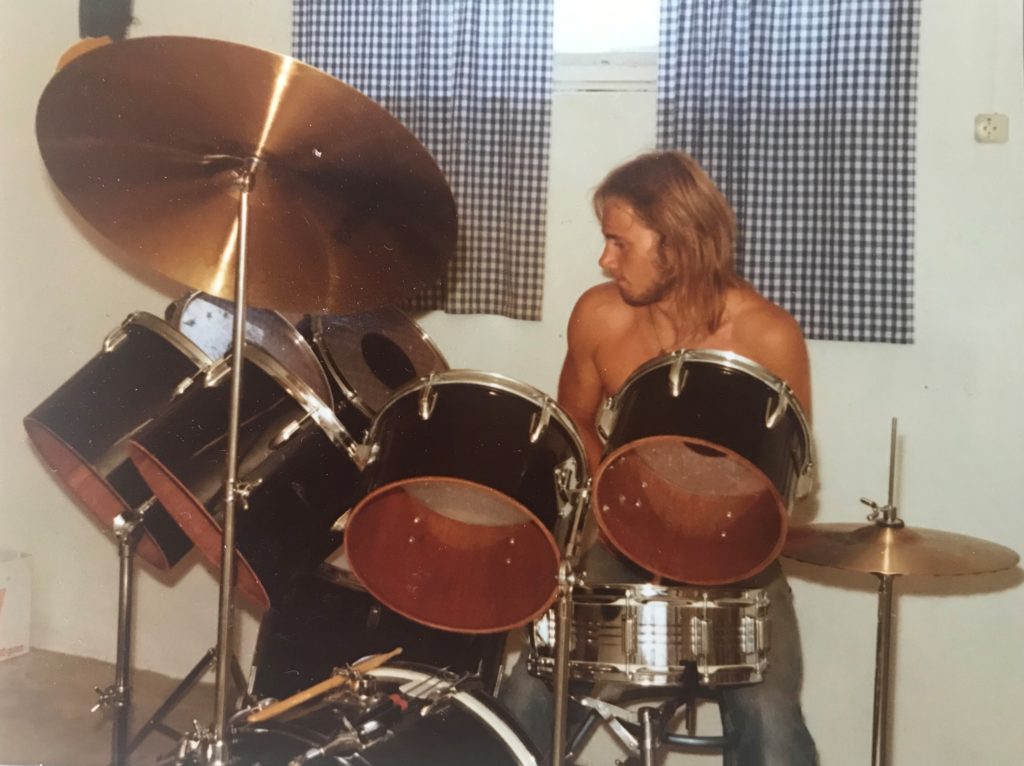 The advantage of moving to a house: Setting up a drum kit in the basement, 1977. Unfortunately repossessed by the shop.
The Inspiration Album/The Steve Howe Emergency Pack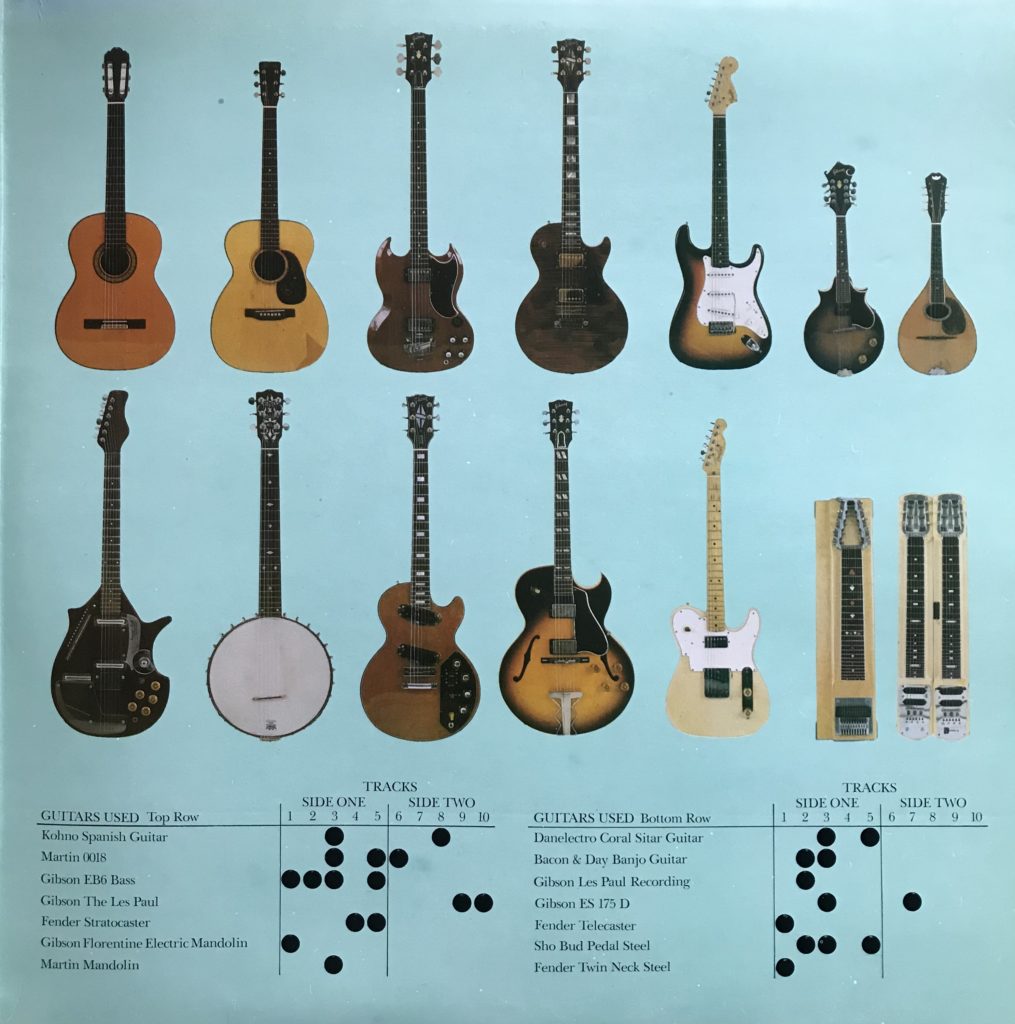 This is the silliest entry on this website.
Just imagine Steve coming to play in Skien, but it turns out the van with the instruments has been held up in roadworks (of course we don't want any accident damaging guitars!) and will not get here in time. He has planned to play his second LP, The Steve Howe Album, track by track, and Ronnie, Patrick, Bill, Alan, Clive, Graham and Claire are all waiting down at the pub. Crisis. What could he do?
He could call me.
Top row: Hopefully he'll accept an Ibanez Spanish instead of the Kohno, and an Ibanez Jumbo instead of the Martin. The EB0 will have to replace the EB6, and he'll have to do with a Les Paul Standard instead of the The Les Paul (which he has sold anyway). Sunburst Strat will be by Ibanez, and the two mandolins are quite close.
Bottom row: I will provide a Jerry Jones sitar. Sorry about the banjo, I am short one. Gibson Les Paul Recording, check. Gibson ES-175, check! Telecaster with humbucker, check!! (It's a Squier, hope he doesn't mind.) Pedal steel, sorry. And I have a one neck lap steel only.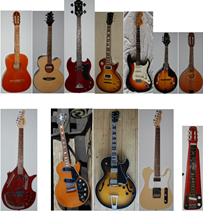 You can't say I haven't tried, though. Could somebody give Steve my number?
The Solid Silver Band Gear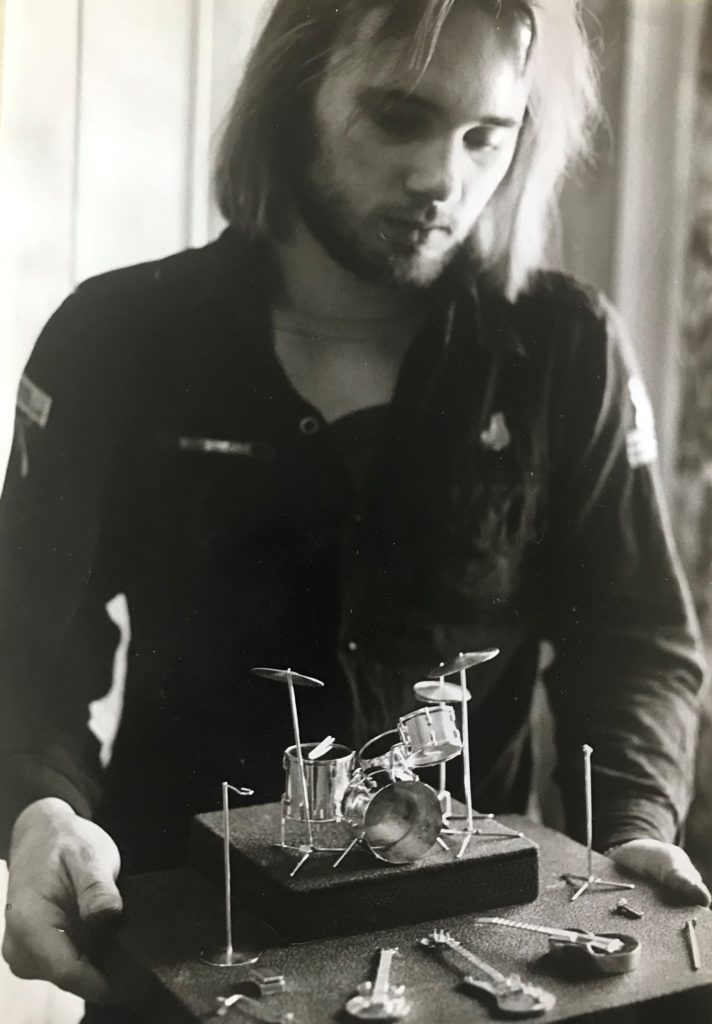 On my way to become a goldsmith I wanted to make something for myself, something special. I am not one to wear excessive jewellery, apart from wedding rings and an occasional pendant. So, what am I interested in? Guitars. I want to make one. Having done the obligatory items I made a 1:10 Les Paul, complete with fishing line strings. During my apprenticeship I completed the necessary equipment to serve a four-piece band; guitar, bass and drums, and an acoustic for the singer. Foldable stand included, and the hi-hat pedal actually worked.
The Performances
Have I ever performed? Not so much, and cameras were not too frequently present. Here are a few occasions.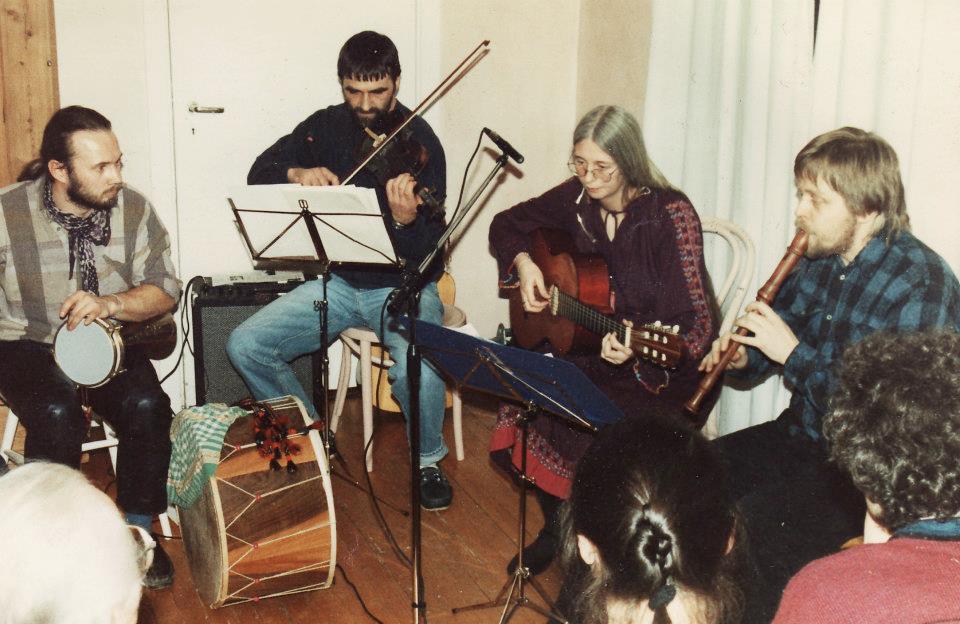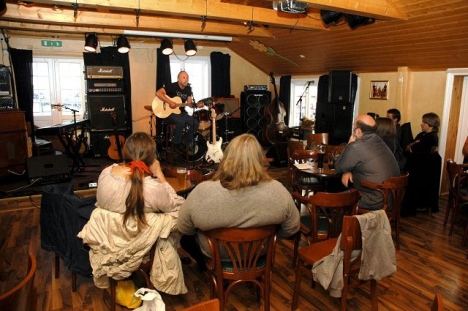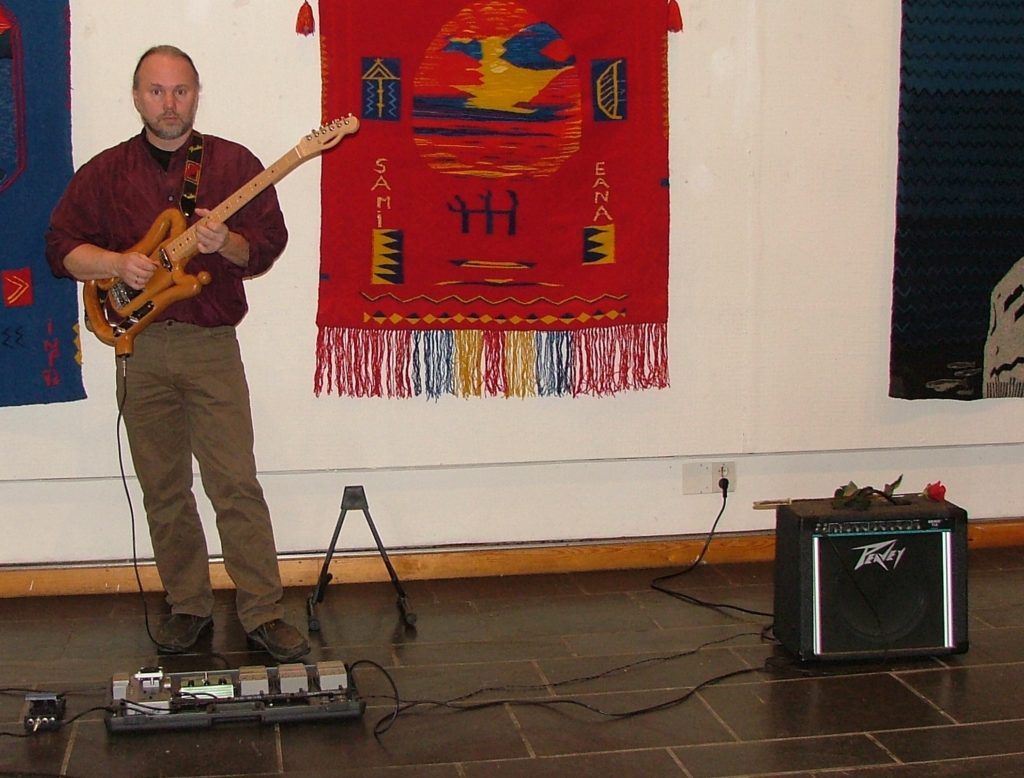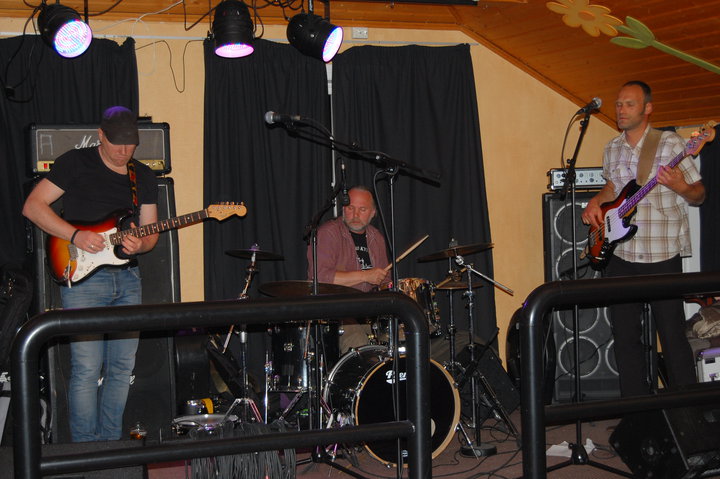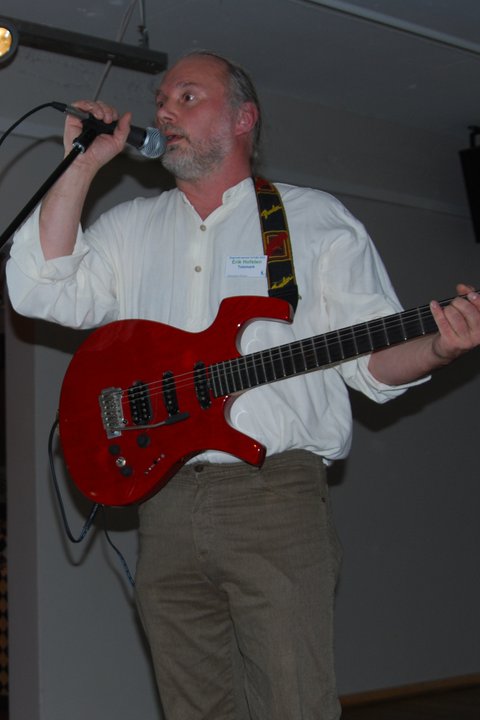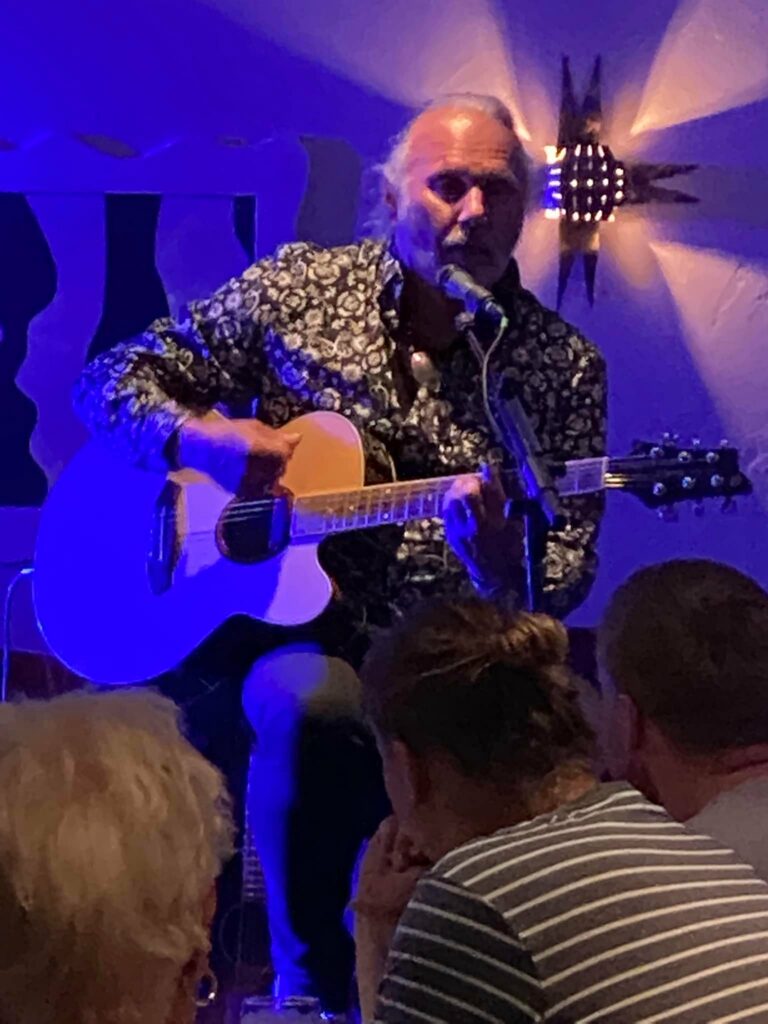 Tour
The tour ends here. Or maybe you missed something? Go look again.